News
Follow us on Facebook and Instagram to stay up to date with our latest news! 

The Changemakers Project is still going strong!
Dear parents, teachers and students,
Looking for some worthwhile activities to do at home? The Changemakers Project is still going strong! Now more than ever, we can use this opportunity as a time for creativity, growth and community service. Our education team has come up with some suggestions on how to develop your Changemakers projects from home. Download the CHANGEMAKERS AT HOME booklet below.

Save The Med LIVE Lessons
This Monday we are starting our Save The Med LIVE Lessons! 
Our experts will be live streaming, sharing their knowledge, experiences and more on specialist subjects. 
Don't miss this opportunity to get involved in this interactive session where you can submerge yourselves with us under the sea!
Put us in your diary for this Monday, Wednesday and Friday at 7pm on our You Tube channel Save The Med Foundation. See you live soon!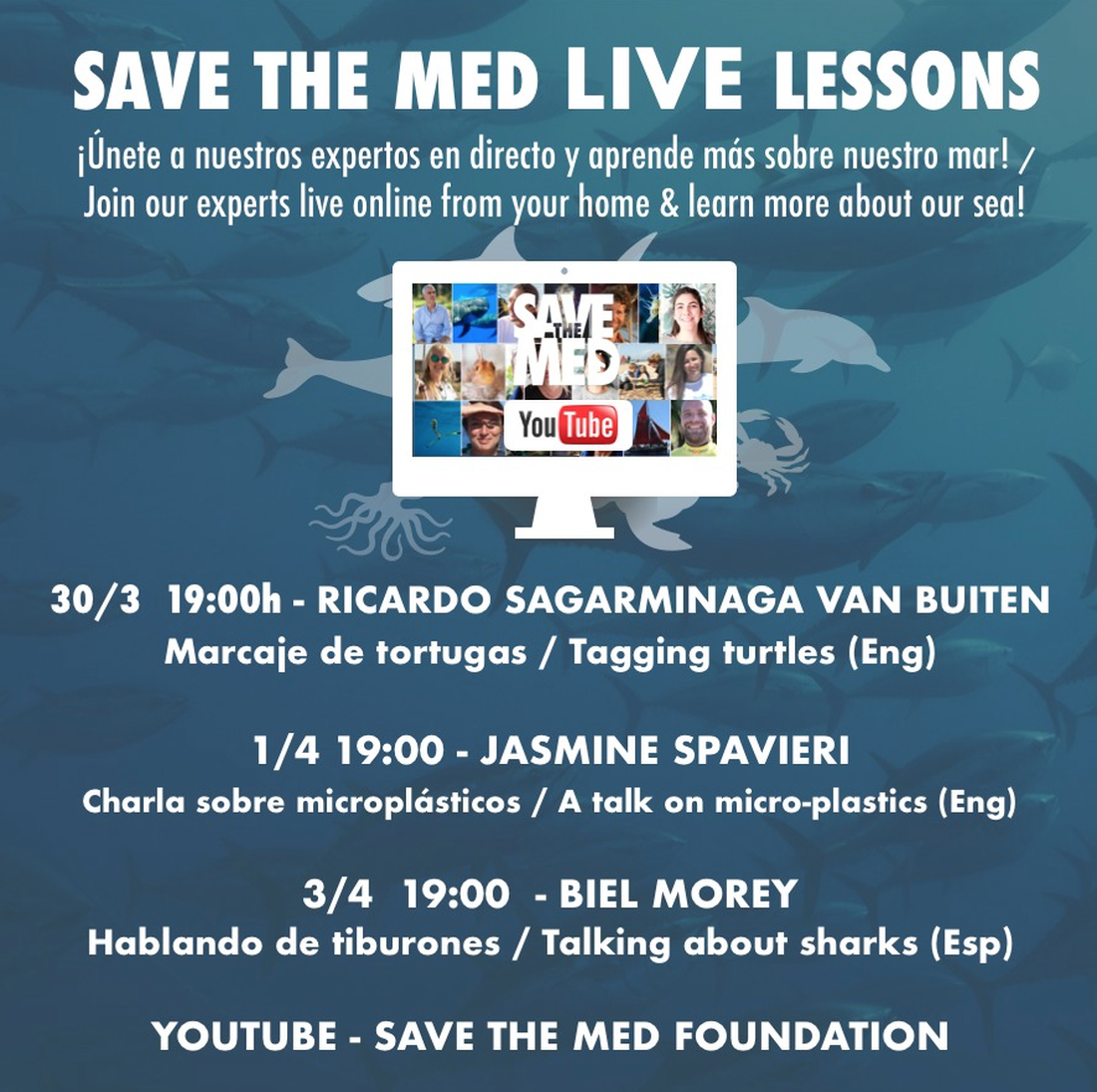 COVID-19
Dear friends and supporters, 
As we write this, the world finds itself in an unprecedented situation of uncertainty and social distancing due to the outbreak of COVID-19. At the same time, we're seeing how solidarity, union and love shared in the most creative of ways is connecting us, often unexpectedly deeper than we could have imagined. 
While all Save The Med's field activities have been cancelled during the declared State of Emergency in Spain, the environmental issues we are working on to solve remain, as does our commitment towards the Mediterranean Sea and the future of our children. 
During this crisis the office is closed and the STM team are keeping busy working remotely from home to : 
offer all schools that are scheduled for the Dos Manos School Programme digital resources that enable teachers and students to work participate in the the programme remotely. 
provide means for students who have enrolled, or wish to enrol in the Changemakers Project to continue working together with their teams and developing their projects from their homes.
develop fun and engaging educational resources to be made available for the public, offering meaningful home based activities which can have a positive impact during and far beyond this period of social distancing.  
move all meetings and capacity trainings scheduled with our collaborators to online forums and postpone all scheduled public events. 
ensure the efficient continuity of all our project work through adaption and re-structuring.
use this time for reflection and realignment, as in the middle of any chaos, there are silver linings to be found, along with possibilities for learning and growth on a personal level and that of our society as whole.  
As the situation unfolds, we will keep you informed of any changes related to our work. Meanwhile, should you have any questions, please don't hesitate to get in touch with us! We're all here.
In the meantime, we hope you all stay safe, supportive of and connected with one another as we all navigate through these challenging times together. 
With all our love,
The STM - team
Boris will swim from Menorca to Mallorca to raise funds for the protection of the Mediterranean Sea!
Swimmer and ocean lover Boris Nowalski is pushing his body and mind to the limit to help save the Med!
This July swimmer Boris Nowalski will be taking on a challenge unlike any that he's done before in order to help protect what he loves most: the sea. During the first week of July Boris will make an attempt to cross the channel of Menorca, starting in Cala en Bosc in Menorca and swimming non stop all the way to Cap des Freu, close to Cala Mesquida in Majorca, a total of 40km and estimated +12 hours! Why? He is determined to fundraise 20.000€ to help enable Save The Med to continue with our work!
"The sea is what gives me life." Boris says. "During the 20 years that I have lived in Spain I have spent countless hours swimming along the Majorcan coast, and I have seen the deterioration of the sea with my own eyes. Over time there's less and less fish and the Posidonia meadows are shrinking while the amount of plastic pollution is increasing. The Mediterranean is dying. That's why I've chosen to support Save The Med Foundation. I want to do what I can to make a difference and make people to see that we really must do something to help save the Mediterranean Sea." 
Follow Boris as he takes on this challenge via social media @mallorca_open_swim and support him and Save The Med's work by making a donation here. Company Promo Packs are available! Get in touch with sabrina@savethemed.org to learn more!
The raised funds will help us to ensure the continuity of the 'Animal Oceanographers' programme, which aims to protect some of the Mediterranean Sea's most fragile marine species and habitats.
Save The Med receives Social Contribution award from AENIB
In February the Association of Nautical Companies of the Balearic Islands (AENIB) celebrated their General Assembly and held, for the 13th year in a row, their annual award ceremony during which Save The Med Foundation received the award for Social contribution. We are very honoured and wish to thank AENIB so much for this recognition! 

Save The Med receives Environment Award by Onda Cero
24th of February 2020 
Save The Med are honoured to be selected as winners of the Onda Cero Environment Award. We'd like to thank the jury of Onda Cero and all our funders, collaborators and volunteers without whom none of the work done would be possible. 
"This award belongs to all the people that have a love for these beautiful islands and a vision for a future full of hope for our children." - Brad Robertson
Annual Report 2019
2019 has been a year of change - for us and for the world as whole - and as a new decade begins so does a new journey in the name of Mediterranean Marine Regeneration!
Last year, in Asociación Ondine's last annual report we wrote that… "In a world faced with numerous human imposed threats of global scale requiring urgent change, we have come to a tipping point where our actions today, or the lack thereof, will determine our legacy and our children's tomorrow. A tipping point in which we are expected to find the courage to step up our game, to reconsider our definition of wealth, to embrace a transformation of ourselves and of society as we know it, and to rewrite our future together. In such times, passivity and stagnation are not an option. If we want to see a change, we must begin by changing ourselves." And so we did. 

Manifesting these intentions has been our main focus throughout 2019 and the transition from Asociación Ondine to Save The Med Foundation has been a first and necessary step in this process. 
In Save The Med's first Annual Report we invite to read about the start of this journey, 
to learn about our expanding project work, find out how we have invested our funds and much more. You can also find examples on how to get involved - because we couldn't do any of it alone! 
All the work done is made possible thanks to our the unconditional support of our families and the help of our awesome volunteers, students, Changemakers, members, funders and collaborators who ensure the continuity of STM's work!  Our heartfelt thank you to each and every one of you for sharing this journey with us! You are #GenerationSaveTheMed!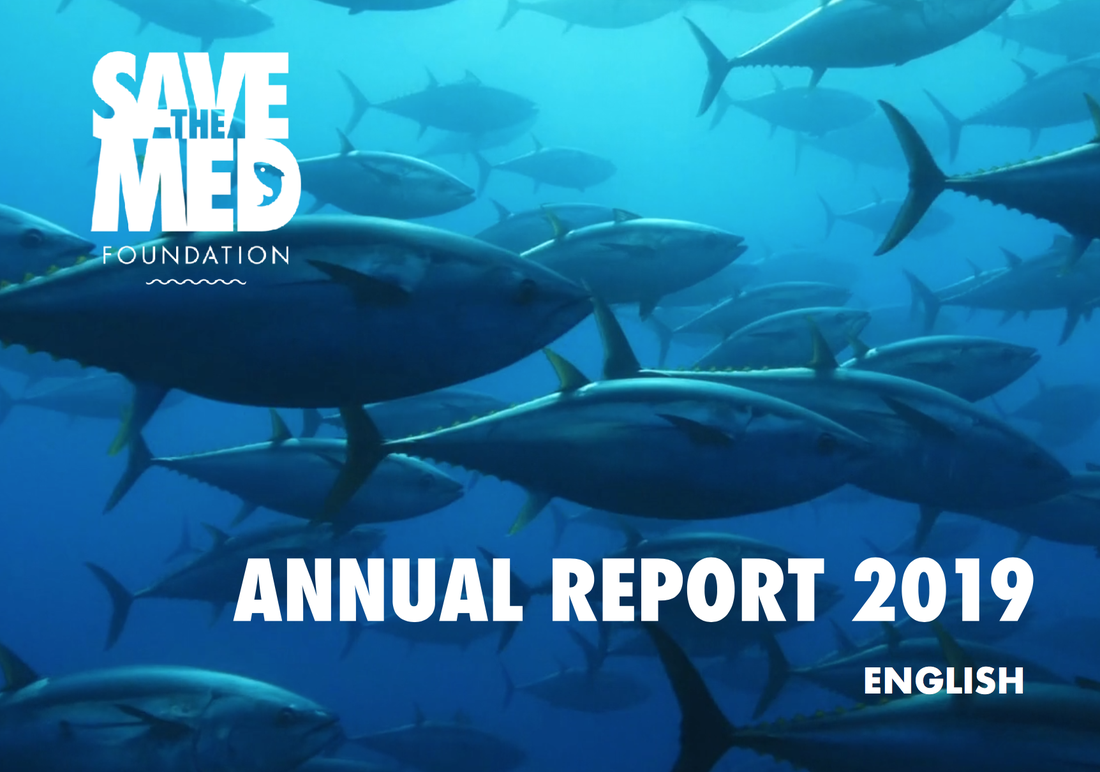 We've launched The Changemakers Project 2020!
January 7th 2020
Save the Med is inviting students to be part of a positive wave of change in the world of marine regeneration. This year the Changemakers Project will have three main parts to it.
1. The Changemakers Project
We invite students from Mallorca, aged 15 - 18, to form teams and develop ideas that can help reduce plastic consumption. By implementing their projects students will help ignite a wave of change in their communities, and in May they will submit their projects to Save the Med Foundation. Click here to find out more about the type of projects we're looking for and download the informational leaflet to learn more and participate. 
2. The Changemakers Exhibit
An event where all teams can come together! Students from all over the island will get together to present their projects to the public and discuss solutions to plastic pollution. Students will have a chance to view each other's projects, network, learn from each other, inspire and be inspired. Our team will view the projects and make a final decision before announcing the team which will join us for an expedition onboard the Toftevaag! 
3. Changemakers At Sea
The team with the most impactful project, evaluated by a panel of scientists and educators, will be announced during the Changemakers Exhibit and rewarded with an unforgettable expedition experience in July. For one week, students will help our scientists study marine life and human activities at sea, all the while gaining knowledge and skills to become true Ocean Ambassadors when they return.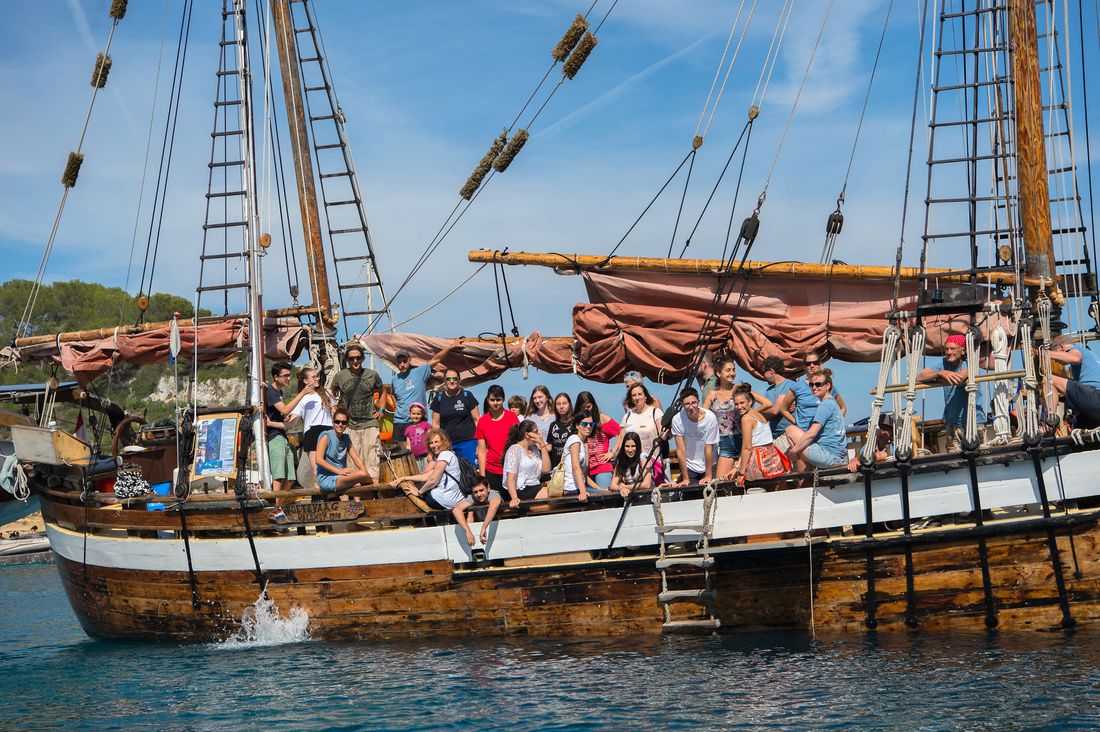 Mediterranean Angel Sharks: Regional Action Plan
Most of the sharks and rays of the Mediterranean face an elevated risk of extinction. Living in coastal waters and growing to over 1.5 metres long, angel sharks are at risk from fishing and habitat degradation.
Three species of Critically Endangered angel sharks are present in the Mediterranean – Sawback Angelshark Squatina aculeata, Smoothback Angelshark Squatina oculata, and Angelshark Squatina squatina. With over 20 coastal states and territories, the complex nature of the Mediterranean creates further need for highly collaborative action to build capacity for angel shark conservation.  In this context, the recently launched Mediterranean Angel Sharks: Regional Action Plan provides a framework for conservation action for angel sharks in the Mediterranean. 
Save the Med Foundation has contributed to the development of said Action Plan, that has been led by the Shark Trust and has counted with the participation of an array of organisations from within the Angel Shark Conservation Network and across the Mediterranean, as well as with the International Union for Conservation of Nature (IUCN), the Convention on the Conservation of Migratory Species of Wild Animals (CMS) and the Specially Protected Areas Regional Activity Centre (SPA/RAC). This roadmap is designed to focus efforts to help restore these enigmatic species to robust populations in the region. 
Read the full press release here and download the Action Plan below the image.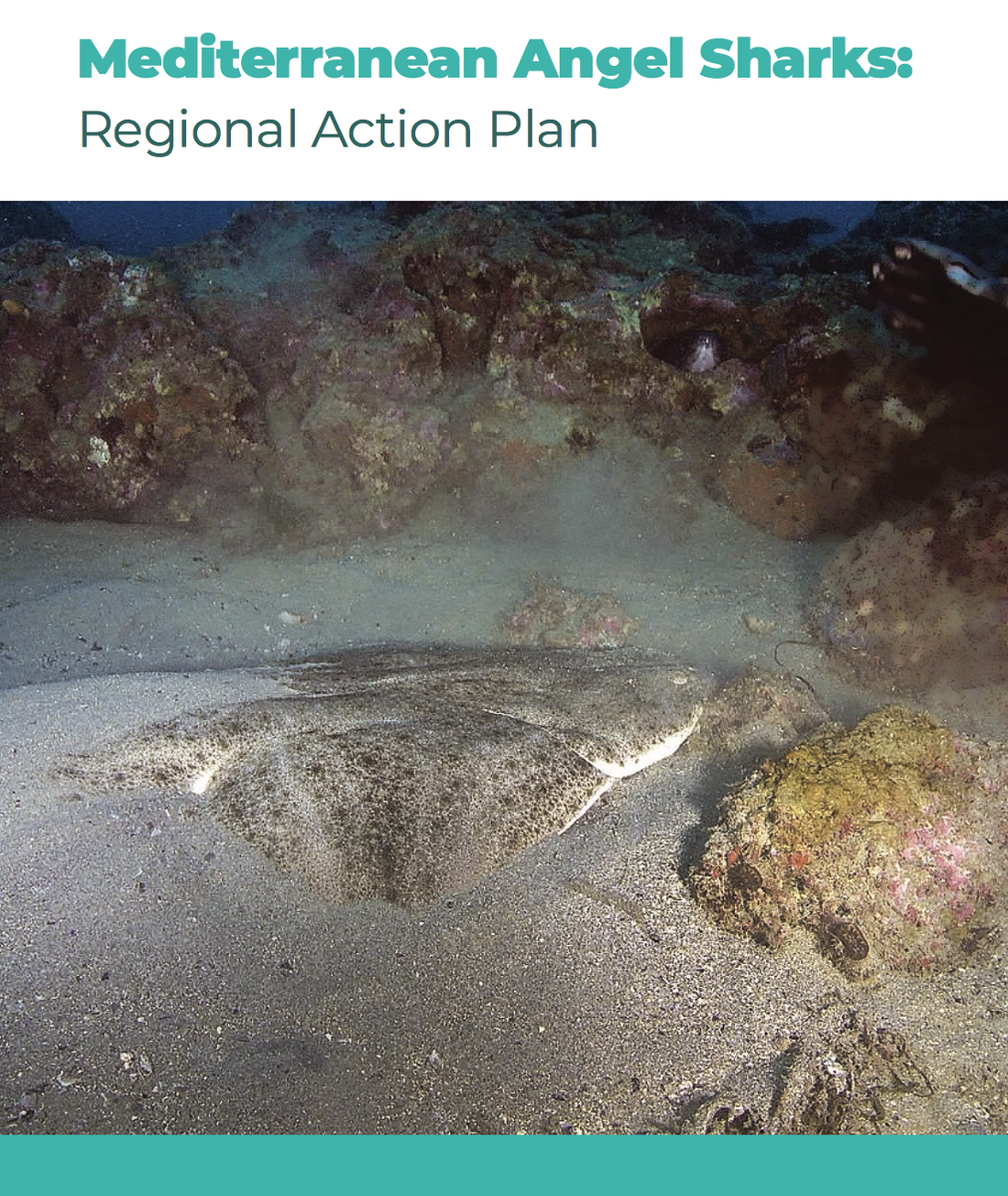 Join our campaign to regain the right to drink tap water!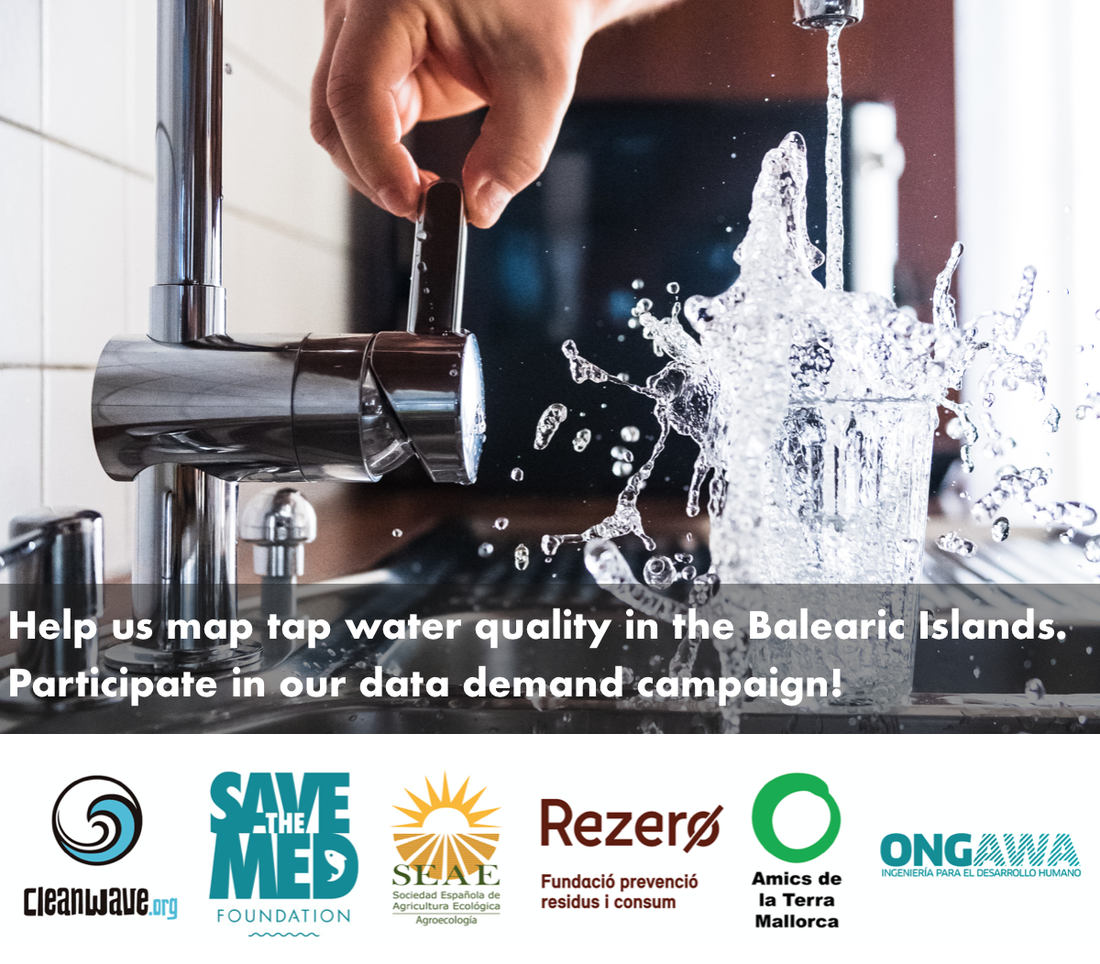 Participate in our data demand campaign to help us map drinking water quality!
Water potability and availability is a matter that concerns us all. We all have the right to transparency and control of data as a legal requirement, as stated in the United Nations Resolution 64/292.
However, in the Balearic Island there is a lack of clear, publicly available data about the quality of the tap water in different parts of the island as well as on area specific alternatives where tap water is not potable.  This results in confusion and potential overconsumption of plastic bottled water, which in turn has detrimental effects on the environment. 
Save The Med, Cleanwave and the organization SEAE are working in alliance to map the quality of tap water in the Balearic Islands, make this data available to the public, evaluate its' effect on the consumption of plastic water bottles and ultimately specify actions to take based on the results. To succeed, we need as many people as possible, from all Balearic municipalities, to help us by demanding data that is rightfully theirs. Fundación Rezero, Amics de la Terra, Mallorca and ONGAWA have already joined this initiative and we invite you to do the same! 
You can 
personally
support this campaign
by sending an official letter to the responsible company / city council in your municipality requesting the complete analytics of your tap water and it's periodical provision to the public. Once received, we ask you to send this information to us. (Necessary contact information and draft letter will be provided to you by Save The Med)
The information you receive will then be analysed by Save The Med staff in collaboration with experts in the field, and the results we be made available to the public.
To help us with the campaign we ask you to send
 the following information 
 to 
tupa@savethemed.org
:
Municipality of residence:
We will send you the letter and prepare a database with the objective of monitoring the results.
The project will be carried out in the islands of Mallorca, Menorca, Ibiza and Formentera, and includeinformation about the entire water cycle: from the origin of the aquifers to the treatment of desalination plants and plants for water management by the administration, and finally, possible actions by citizens as water consumers. 
Zero Waste Guide
On November 20th 2019 Bea Johnson, the pioneer of the Zero Waste movement, visited Mallorca for the first time. During an exciting event at  Trui Teatre, organized by Viveco and Save The Med, Bea taught us how to reduce waste in our homes and lead a more minimalistic and environmentally friendly lifestyle. She shared her experiences based on her home country, but also showed us that her method is applicable anywhere. 
So that all of us who live on the island can apply the knowledge shared by Bea to our own lifestyles, we have gathered information about some companies from Mallorca that offer products which facilitate a zero waste lifestyle, and which collaborated with us during the event. By sharing this brief Zero Waste Guide with you, we hope that you will more easily find alternatives to single use plastic as well as creative ways to reduce your waste. 
We also invite you to send us information about other shops in the Balearic Islands that promote products that are reusable, returnable and sold in bulk.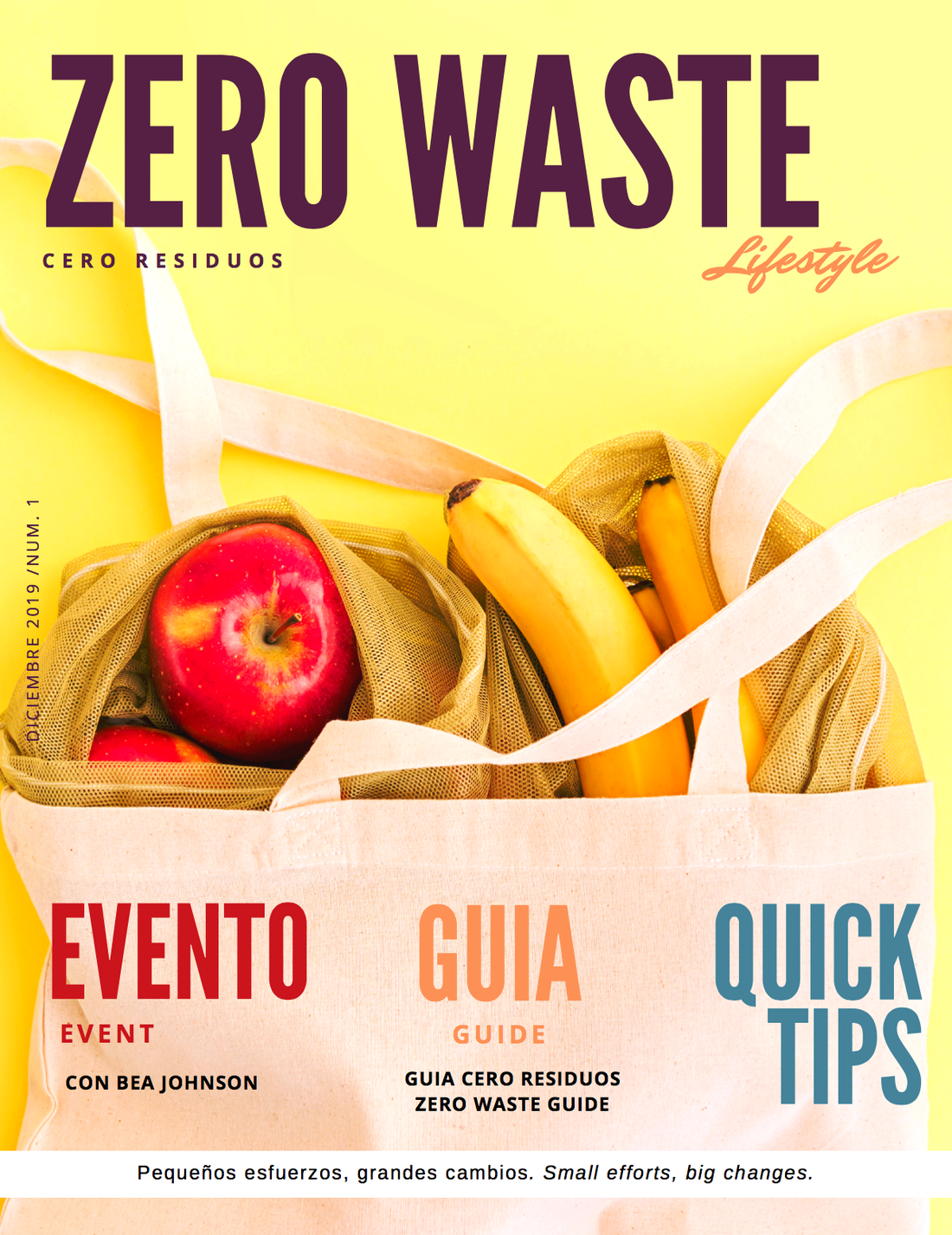 PRESS RELEASE by Project AWARE® & Save The MED Foundation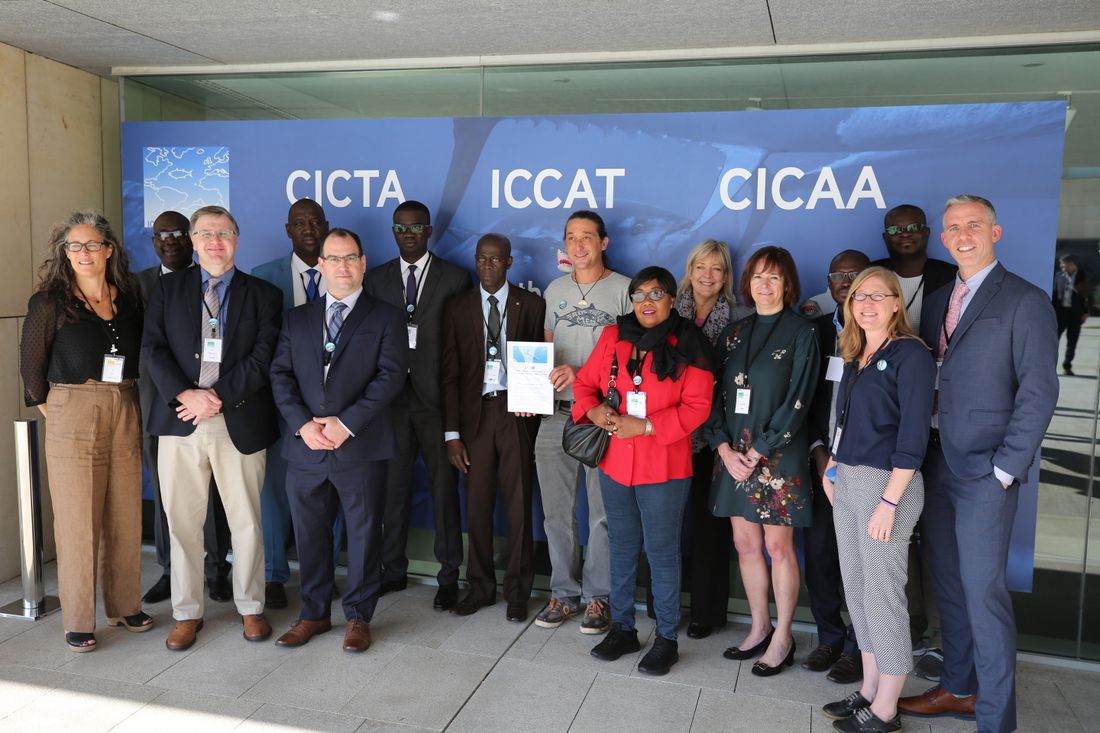 Immediate ICCAT Ban Needed to Save Endangered Mako Sharks
Scuba Divers and Marine Scientists Call on International Fisheries Managers to Act Now and Prevent North Atlantic Population Collapse.
November 19th, 2019
Palma de Mallorca, Tuesday, 19 November –  In a shared effort to highlight growing public concern for declining shortfin mako shark populations, local conservation group, Save the Med, and global marine conservation non-profit, Project AWARE®, are bringing the voices of more than 26,000 concerned ocean enthusiasts from around the world to the attention of fisheries managers ahead of critical decisions taking place at the meeting of the International Commission for the Conservation of Atlantic Tunas (ICCAT) – 18-25 November – in Palma de Mallorca, Spain.
"Years of inaction to protect declining mako sharks is increasingly a cause for worry among the public, in general, and the dive community, in particular. We are here today to urge fisheries managers to acknowledge our concerns and heed scientific advice for makos, before it's too late. One thing is clear to us all: postponing action is no longer an option. It's high time to shift the focus from short-term economic interests to the long-term sustainability of marine ecosystems." says Brad Robertson, Save the Med Foundation Co-Founder.
This week, at their 26th Regular Meeting, member governments of ICCAT are considering fishing restrictions to protect Atlantic shortfin mako sharks. Since 2017, ICCAT scientists have advised that landings from the seriously overfished North Atlantic population should be banned and have warned that the unprotected South Atlantic population is at risk for following the same path.
Spanish fleets consistently land more makos than any other country. Despite repeated warnings about mako overfishing, the EU has failed to propose the scientific advice at ICCAT meetings or even limit set an EU limit on mako catches. Progress for mako conservation at this week's ICCAT meeting depends on the European Union reconsidering its stance and instead supporting the limits that scientists advise.
"The population assessments made by scientists are clear: North Atlantic mako sharks are facing collapse and a ban is needed to turn the tide. We need to start thinking of makos like we do other endangered species, such as sea turtles or monk seals.  Makos are still present in the market and on our tables; we're still eating them! It must stop," comments Gabriel Morey, Save the Med Foundation Co-Founder
In August, the EU co-sponsored a successful proposal to list mako sharks on Appendix II of the Convention on International Trade in Endangered Species (CITES).  As a result, CITES Parties will soon be required to demonstrate that mako exports are sourced from legal, sustainable fisheries. The IUCN classified makos as Endangered on the IUCN Red List in March.
Project AWARE and its Shark League coalition partners have appealed to fisheries and environment authorities in all ICCAT Parties to work together to ensure scientific advice is immediately heeded, in line with government obligations under both ICCAT and CITES. More than 25,000 divers and ocean enthusiasts who added their voice to Project AWARE's #Divers4Makos petition are backing the Shark League appeal.
"Fisheries Ministers making decisions at ICCAT are all public servants, and we want to ensure that they hear, loud and clear, the message that the international dive community, including over 25,000 #Divers4Makos supporters: protect mako sharks NOW!" adds Ian Campbell, Project AWARE Associate Director Policy and Campaigns.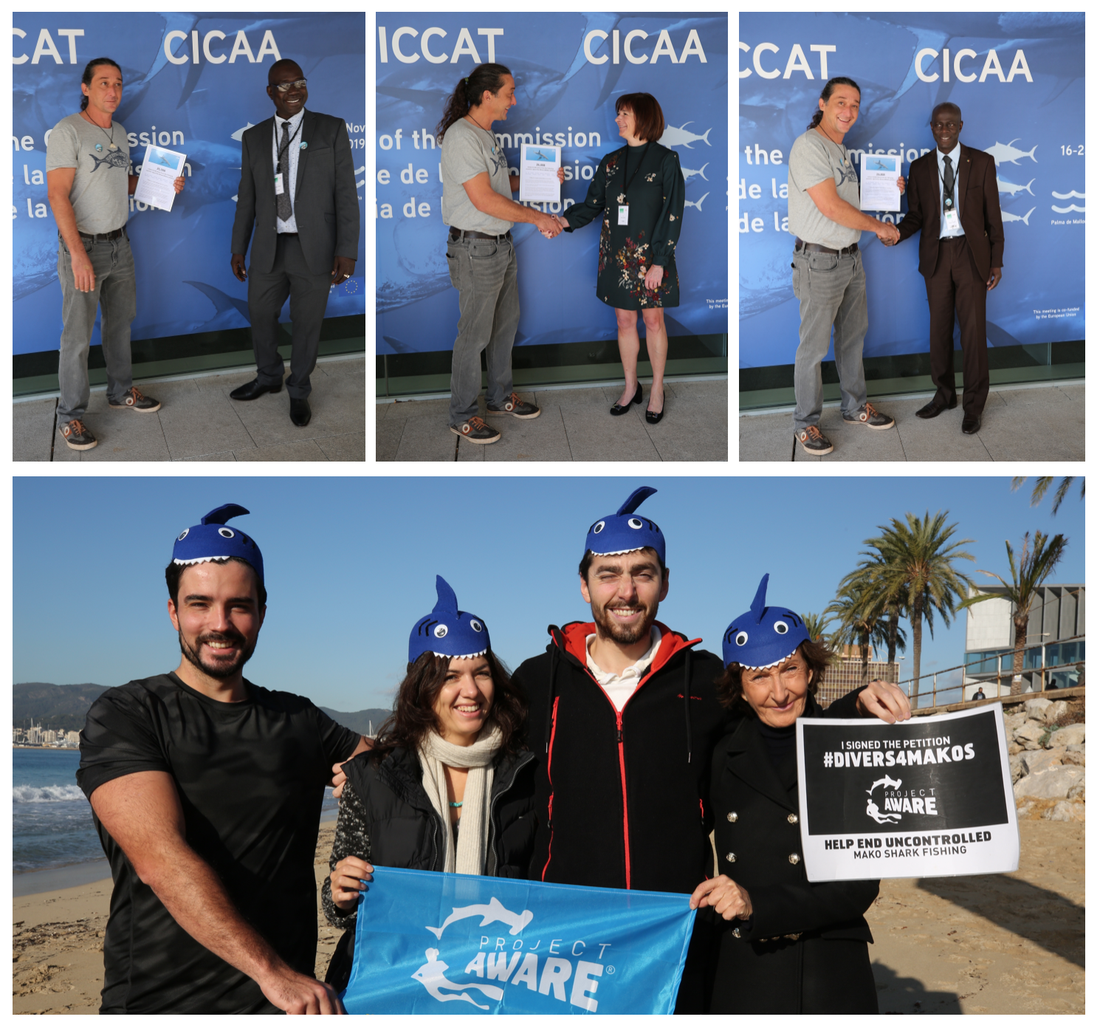 More information:
Project AWARE®: Focused on connecting community action with policy change, Project AWARE is a global movement for ocean protection powered by a community of adventurers. Project AWARE is an international registered non-profit organization and action member of the Shark League for the Atlantic and Mediterranean Coalition (www.projectaware.org).
Shark League: With support from the Shark Conservation Fund, the Shark League of the Atlantic and Mediterranean advances responsible regional shark and ray conservation policies – Members include Shark Advocates International, The Shark Trust, Ecology Action Centre and Project AWARE. (www.sharkleague.org) 
Save the Med: By combining cutting edge marine research with educational community projects Save The Med Foundation works for Mediterranean marine regeneration by bridging the gap between science and community. Through collaborations with local stakeholders the organisation focuses on the development of efficiently managed marine protected areas and the prevention of plastic pollution. (www.savethemed.org)
Shark Facts:
In 2013, the value of shark ecotourism was estimated to be worth US$314 million per year, directly supporting over 100,000 jobs, with approximately 590,000 dedicated shark tourists. Recent trends suggest these figures will double over the next 20 years.

The economic value of shark tourism has provided incentive to protect sharks and their habitats in several countries.

The shortfin mako - the world's fastest shark - is sought for meat, fins, and sport, but most fishing nations have yet to impose limits on catch.

New analyses show that the North Atlantic mako shark population has only a 53% chance of recovering from overfishing by 2045, even if catches are cut to zero.
Related Links:
Add your name to the #Divers4Makos petition: http://www.projectaware.org/divers4makos
Dragonera Blava
November 8th, 2019
Yesterday we celebrated the opening of the exposition 'Dragonera Blava' which will be open to the public until end of November in the Townhall of Andratx.
We wish to thank everyone who contributed and made this event possible; the talented artists Emma Glinski and Nicholas John Taylor who created the immersive photo collage, Eduardo Miralles and Javier Peréz de Amezaga Tomás who shared their artwork, all the participants of the PhotoCollab 2019 who contributed their images, the collaborators who supported the event including Marilles Foundation, Bebidas Puig, Hotel MomPort, Aico Audiovisuales, Money Doo and of course the Ayuntamiento de Andratx.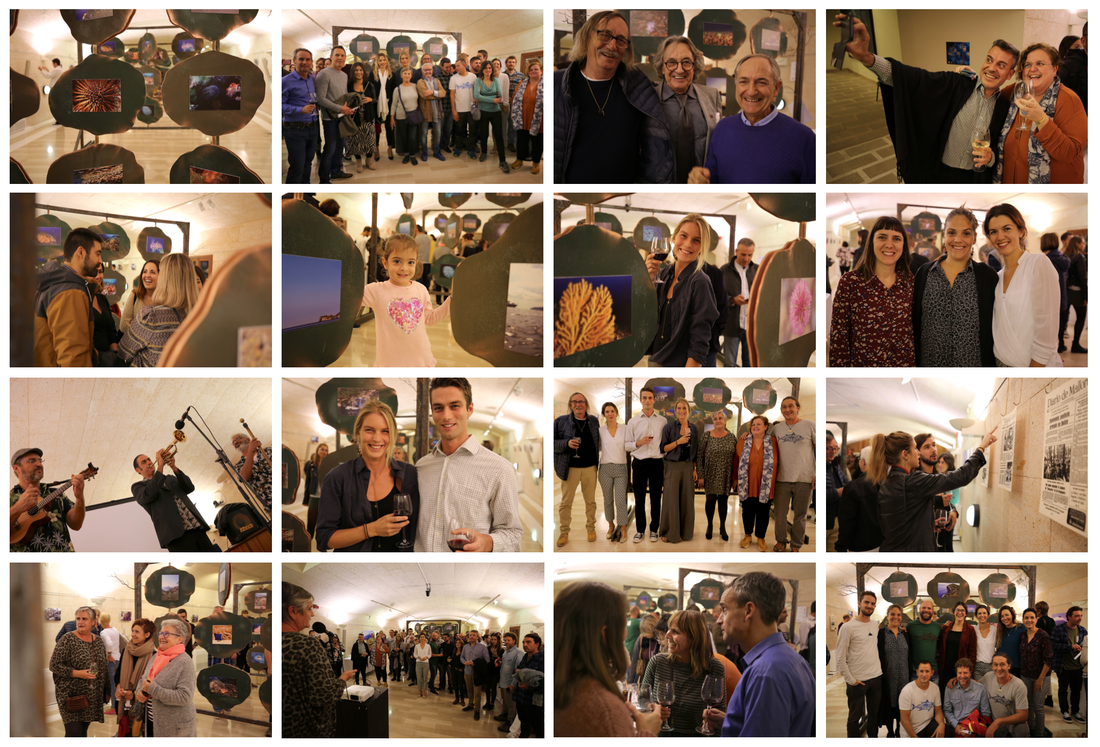 Visit the exhibition 'Dragonera Blava'
October 30th 2019
A photographic collaboration conducted throughout the summer of 2019  brought together over fifty individuals from the area of Andratx, who contributed their time and photography skills to highlight the beauty and values of the Dragonera Island and its Marine Protected Area. 
Between November 7th to November 30th a photographic collage composed of their photographies and created by Emma Glinski will be exhibited in Andratx Townhall, in Sala de Plenos. The vernissage will take   place November 7th at 19PM, and the exhibition will be open to the public Monday to Friday 9.00 - 13.00 until the end of the month. 
Visit the exhibition to to discover the beauty of this Marine Protected Area and learn about the historical and current efforts to protect the Natural Park of Sa Dragonera and its' marine environment.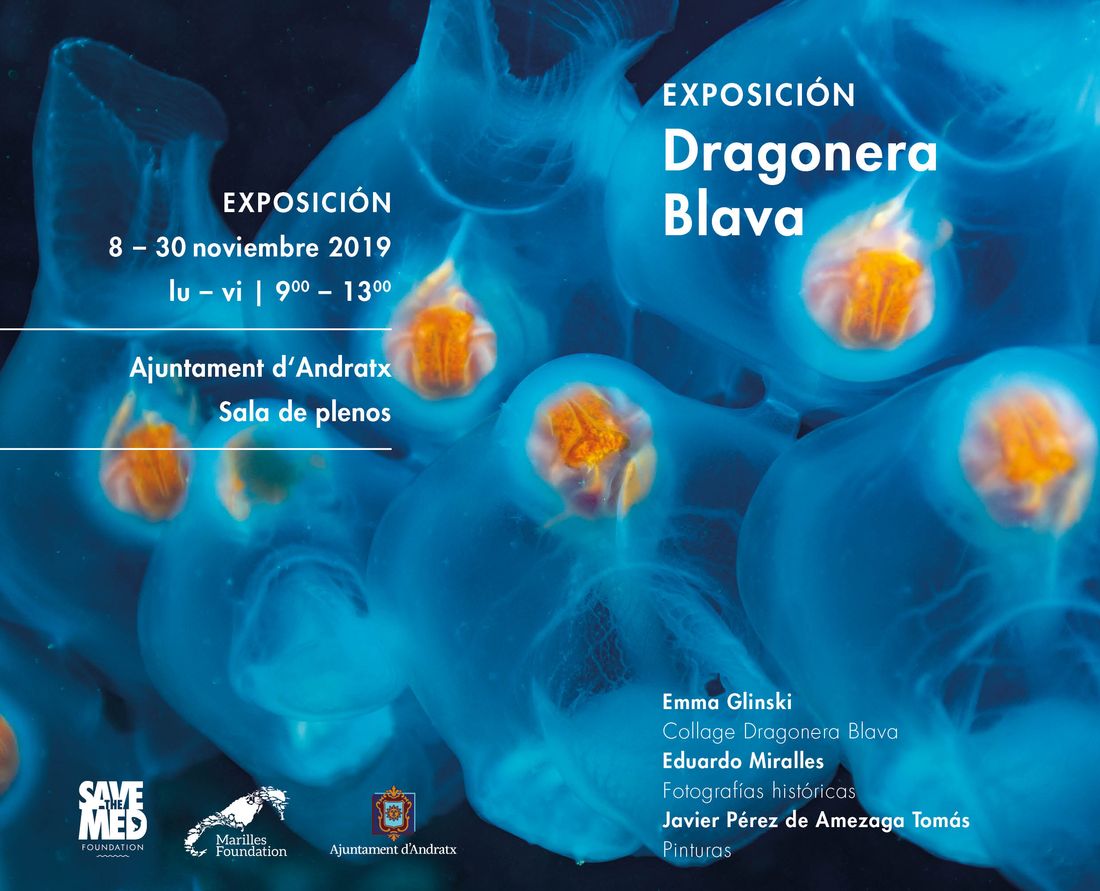 Locals come together to protect Sa Dragonera
October 15th 2019
This summer we launched the PhotoCollab project highlighting the protected area of the Dragonera Island with the support of the Marilles Foundation.
The crowd sourced collection of photos above and below water from over fifty participants do not only document and help us raise awareness about the importance of the area, but also show the benefits of collaborative advantage. 
All participants of the PhotoCollab project are winners. Their photos will be included in the database of species in the protected area and be combined into a large collage that will be exhibited in November, allowing the public to learn about the crucial values of marine protected areas in general, and Sa Dragonera in particular. 
In October, they were invited onboard Falcao Uno for a day out at sea visiting the marine protected area and talking about the importance of local communities in the lasting protection of MPAs. 

We would like to tank  Falcao Uno, Paralenz, e3 Systems and Mallorquinament - Begudes Puig for their support in making this happen! 
November Beach clean!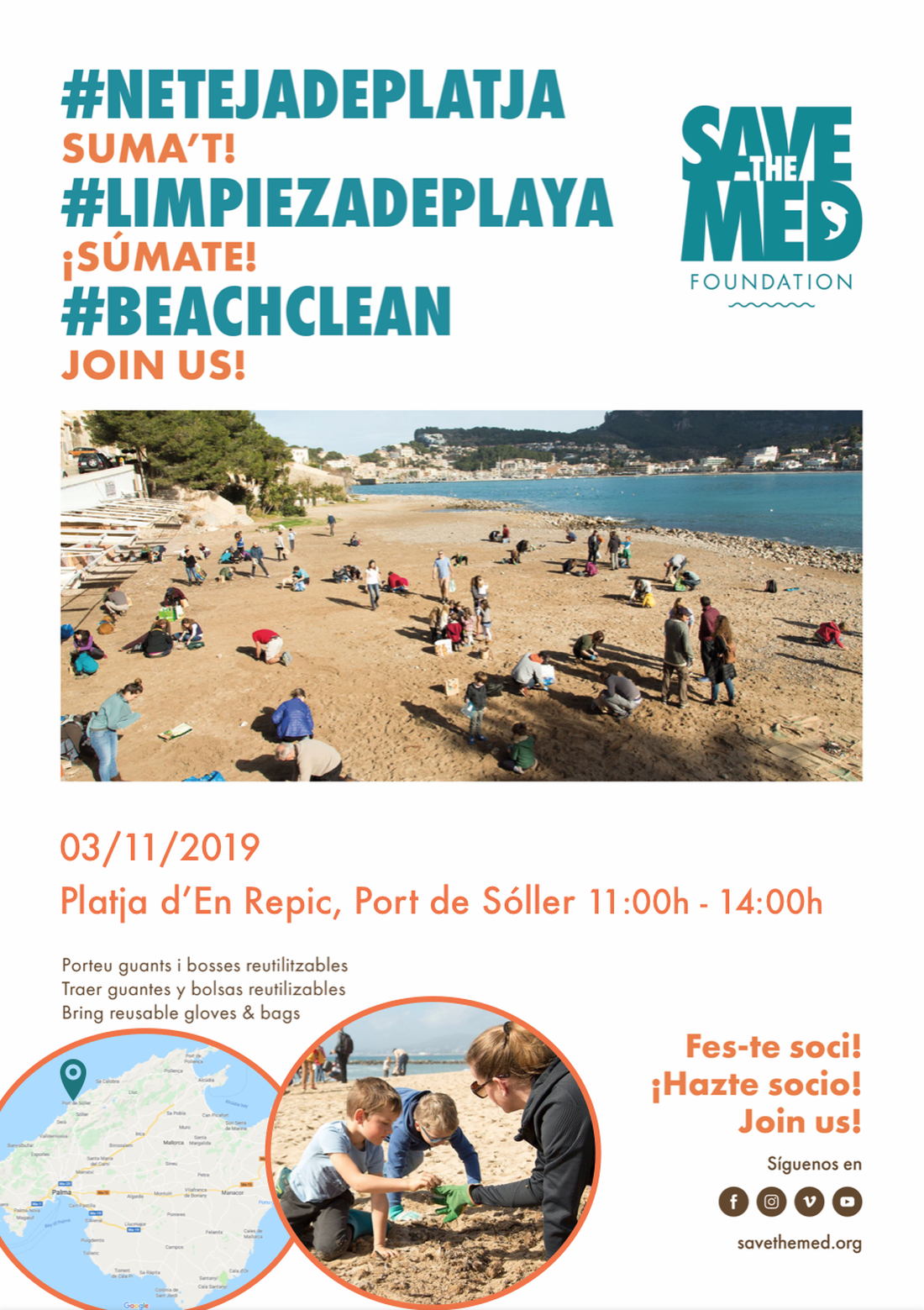 A creative collaboration
20th of august 2019

Meet the artists behind the collage for the recently launched PhotoCollab, the first in a series of community led projects that involve the community in the protection of the marine protected area Sa Dragonera.
Emma Glinski is a young artist who has spent her childhood in Andratx and has considered it her home since her early years. When finishing school in Mallorca, she left for London to study Fine Arts before returning to the island. Emma loves to hike in the south west parts of the island overlooking Sa Dragonera, and to this day still believes it is one of the most outstanding places of natural beauty. She often finds a spot to sketch or paint landscapes.
About her collaboration with the PhotoCollab Emma says: "I am really grateful to take part in this project. It feels good to contribute creatively to something meaningful and environmentally focused, even more so due to my personal connexion with this particular area." 
Emma Glinski explores concepts of time in relation to geological age, metamorphosis, decay and impermanence. She treats time in a physical way, employing it as a material in itself and exploring it's structure through disciplines such as mindfulness and repetition. These processes are of equal importance to her enquiry as the finished article. She uses natural materials as they are the very embodiment of change, and that everything surrounding us can be seen to raise and decay.
"Time's inescapability is something that we all, as living beings of this world, share in common. It is life's raw struggle against death, however, there is a rare beauty in the angst that surrounds our hope to live on after our last breath.  I like to refer to time as experiential or phenomenological time, where we and our productions only ever exist 'in the time-being' ,and yet we also make, through our acts, this time we are in. Thus, we are essentially time-beings; meaning the very fabric and nature of what we are IS time, and we can never exist outside of the present!  Accordingly, the only fundamental truth in the universe is that everything changes. Everything is subject to impermanence. You are not the same person as you were 10 years ago, 10 minutes ago... or even 10 seconds ago as you began to read this. Each moment in the flow of being is time unfolding. This kind of time is not illusory; it is the fundamental actuality of our existence. "

Discover Your Marine Protected Area Sa Dragonera
The project 
Save The Med works towards the creation of an efficient network of Marine Protected Areas (MPAs), including marine reserves. We believe that involvement of local communities is key to achieving lasting marine protection and are launching a new local leadership project which aims to engage local communities in the care and protection of their local MPA. With the support of Marilles Foundation, this pilot project will be implemented in the Sa Dragonera 2019/2020. 
Photo collaboration - Because we can achieve more by working together!
To launch this new project, we invite you all to join a unique 'PhotoCollab' focusing on the Sa Dragonera marine reserve. This photographic collaboration, contrary to a competition,  encourages people to join forces and together participate in the active care for their marine reserve.
The photo collaboration will reveal Sa Dragonera marine reserve's fascinating life through the creation and exhibition of a big collage of photos, sent in by the participants and composed by the local artist Emma Glinski. In addition, your photo will feature in the marine reserve's species database, showcasing Sa Dragonera's richness and biodiversity.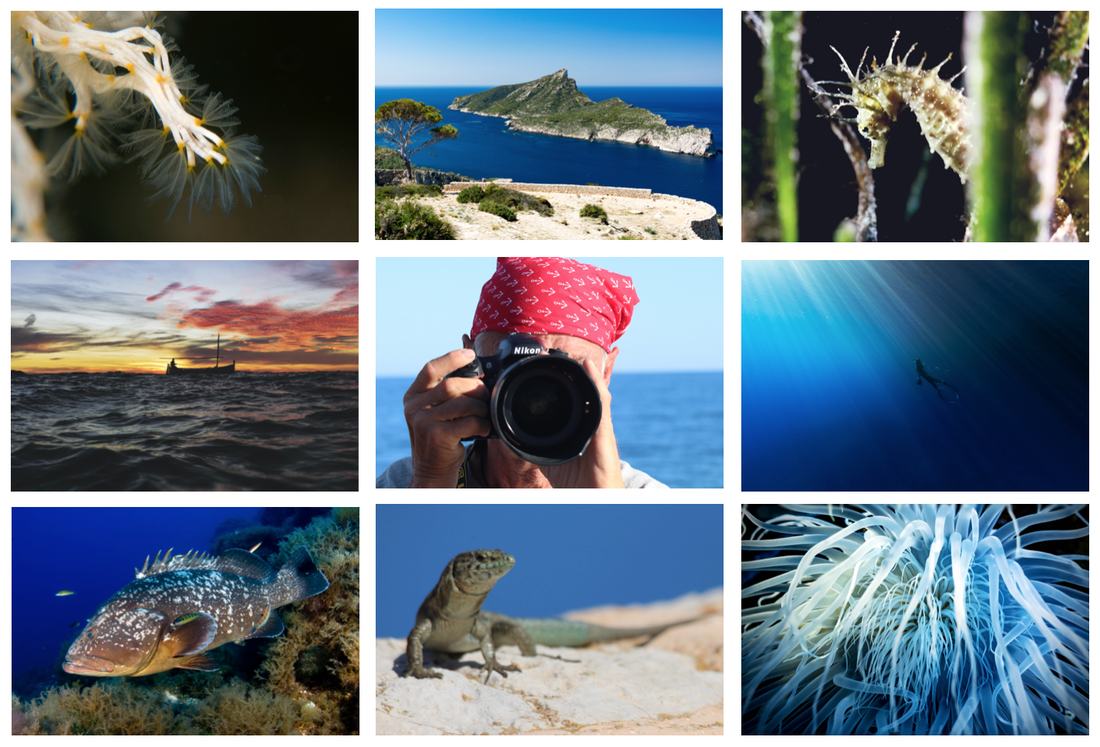 Take a shot for marine regeneration!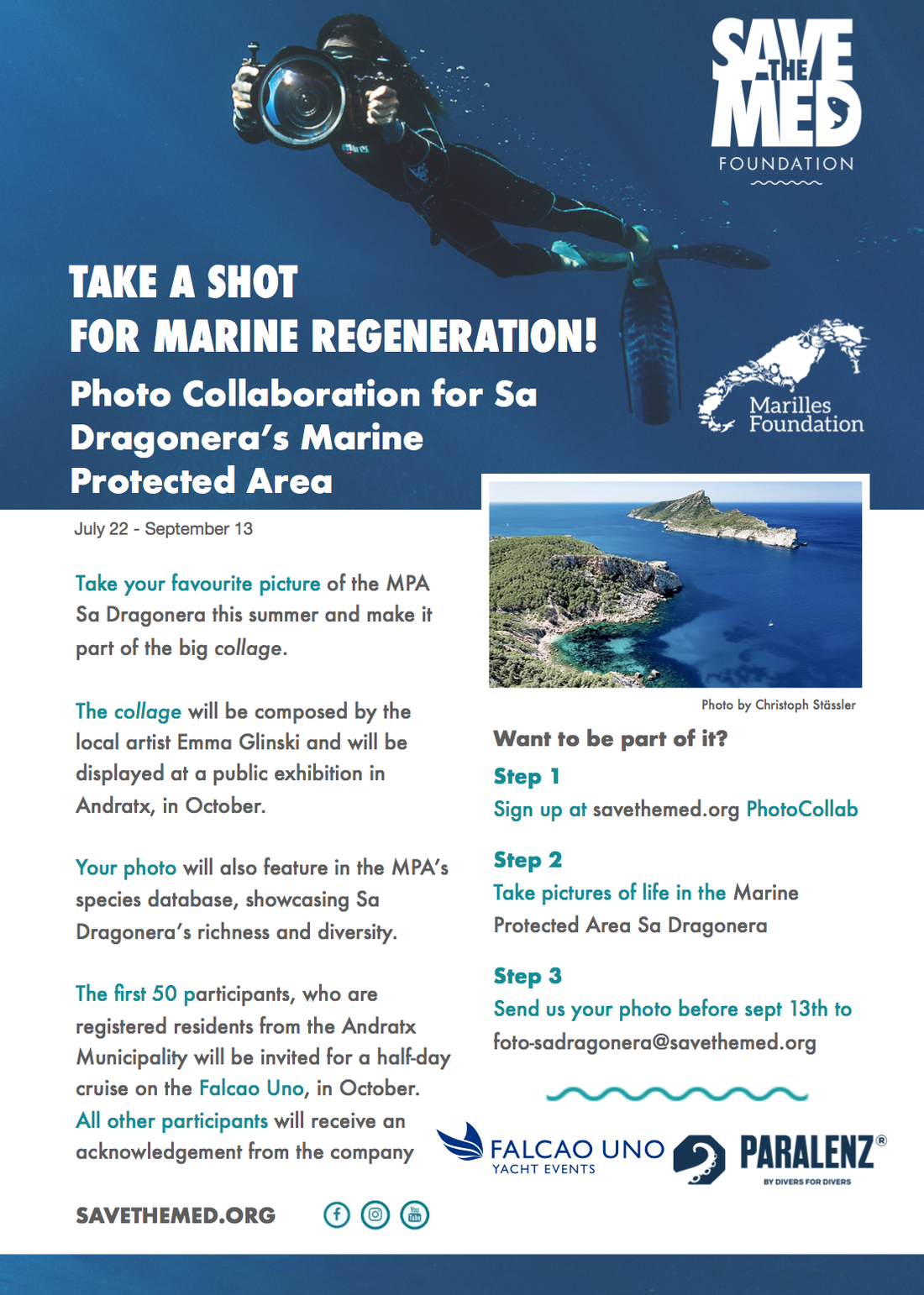 We're stronger together!
Starting 2017 we have developed a close collaboration with the marine research organisation Alnitak, developing and implementing collaborative outreach and research projects together. 
We're truly grateful for our joint expeditions and the close partnership that has evolved between our organisations, and are all incredibly excited for what the future holds - an even closer alliance as we welcome Ric, Jasmine and the Toftevaag volunteers to the STM team! 

We're joining forces and bringing together our collective years of experience, amazing projects and the outstanding enthusiasm of our united teams, for a more efficient way to reach our common objectives! Watch this space!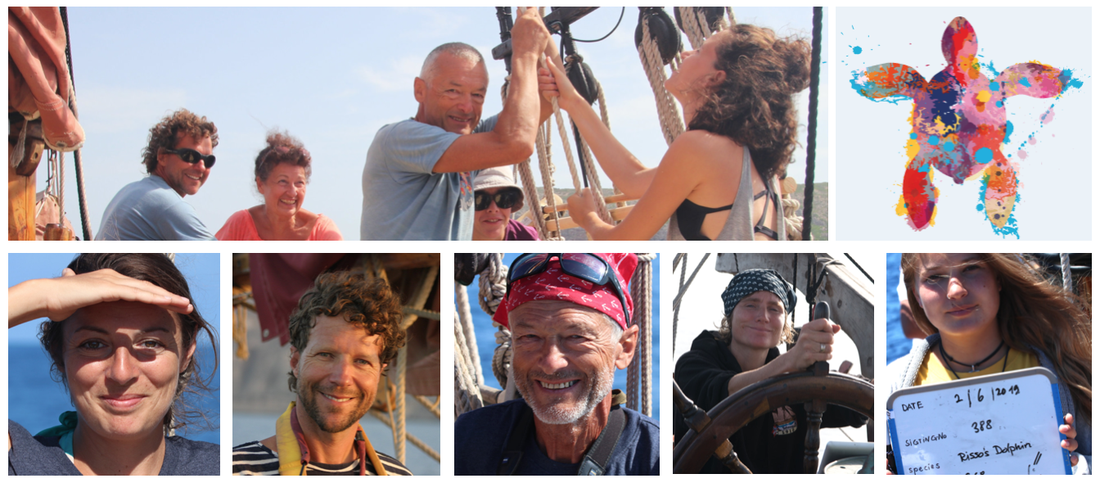 Yin-Yang by Pejac
Save The Med Foundation is honoured to have been chosen as the selected NGO for a fundraiser organised as a collaboration between the fantastic artist Pejac, Suben Art Management and AvantArte. 
Through his thought provoking artwork portrayed in unexpected places, Pejac portrays the conflicting human relationship with nature, reminding us of how easily we forget our interconnectedness with and dependency on it. 
While highlighting some of the most pressing environmental issues that we are currently facing, Pejac impresses not only with the level of care and thoughtfulness that he puts in every detail of each piece of art, but also with his generosity and support of environmental work. 
Pejac dedicated ten hand-embellished impressions of his most recent limited edition Yin-Yang to a fundraiser for Save The Med Foundation, donating 75% of the profits towards Mediterranean marine regeneration.
Yin-Yang, puts the focus on one of his closest and most recurring themes - global warming and climate change. Taking the archetypal image of an Inuit man fishing through a hole in thick ice as an example of the fragility of the environment but also the adaptability of humans, Pejac composed a worrying "before and after" storyline with this striking work. By reversing the image's content and placing the subject on a solitary block of ice floating on water, he managed to sum up the extent of the crisis that humanity is facing, transforming the relationship between the key elements into the structure of a universally recognised symbol for eternal balance.
On July 2nd, the ten hand-embellished impressions, which were pre-released via AvantArte.com sold out in seconds. The following day,  the regular edition's 90 examples of the diptych sold out in under a minute through Pejac.es. 
A heartfelt Thank You on behalf of the whole STM - team to Pejac, Suben Art Management and Avante Art for  your trust and generous support.  

See more: 

PEJAC www.pejac.es // www.instagram.com/pejac_art
AVANT ARTE www.avantarte.com // www.instagram.com/avant.arte
SUBEN ART MANAGEMENT www.subenysuben.com // www.instagram.com/suben_art_management
Night of San Juan #zerowaste
30th of June 2019
The 23/6, following months of campaigning for environmentally responsible habits during this hugely popular yet highly polluting event, we celebrated a waste free Night of Sant Joan in Portixol for the 4th year in a row together with Es Racó de Ses Idees. 
Around 35 amazing volunteers came to help, organise all kinds of workshops, activities for children, beach cleans and games for the participants and beach visitors. The campaign encouraged using reusable bags, tupperware, cups and utensils instead of throw away items. Reusable cups and portable ashtrays were also made available on site for anyone who needed them.  Balloons and lanterns that usually end up harming the environment were discouraged and instead, reusable decorations workshops were offered. 
As the sun set, candles were lit as friends and families gathered in the dark and the atmosphere was amazing. When the team packed up towards midnight, there were plenty of people left, and to our relief very little rubbish. 
A few days later, the results were in: On all the beaches of Palma, a total of 27 tonnes of rubbish were collected the morning after the event. While this is a big number that needs reducing further, it's reflects a positive trend. In 2016, when the first #zero waste event took place, that number was 49.7 tonnes. This means an almost 50% reduction in three years, reflecting growing awareness about the impacts of single use plastics in the environment. 
With Night of San Juan over, many other celebrations await us all. Join us in turning all of them into #zerowaste events and throwing away our throw-away culture once and for all!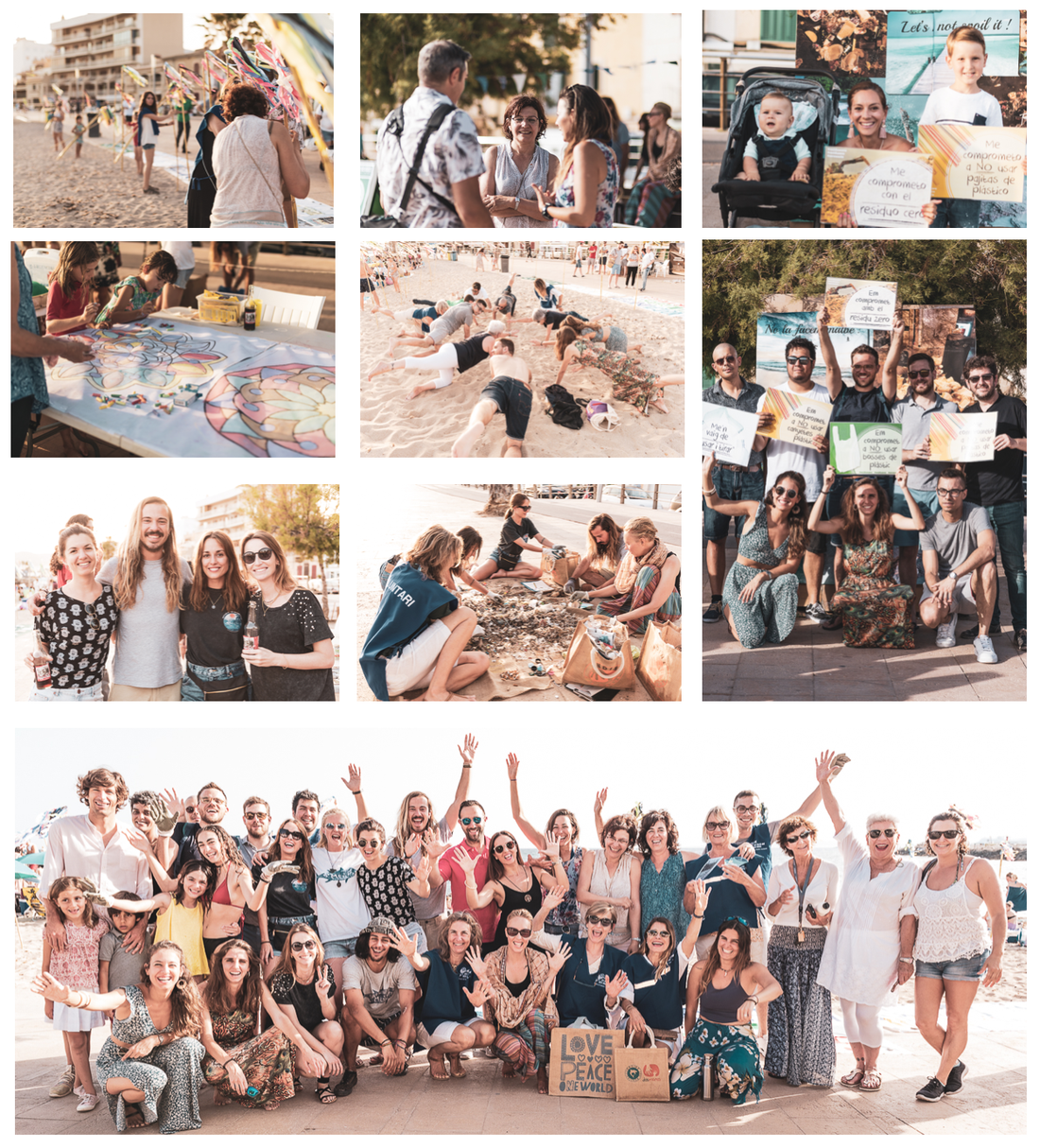 Join us as we celebrate a waste free Night of San Juan!
The Night of San Juan #ZeroWaste initiative was started a couple of years ago at the beach of Portixol by a small group ocean lovers who felt an urge to turn this highly polluting event into a magical night where humans celebrate in harmony with nature. With your help, we are spreading it to involve many different parts of the island! By showing that this night can be celebrated without polluting our beaches we aim to put a stop to plastic pollution and its' negative consequences. 
To do this we encourage people from all around the island to join forces with us by organising a waste free San Juan night  with your friends and family on your local beach. Anyone can join! Individuals, families, groups of friends, companies, neighbourhood associations, NGO's etc.

And it's all very simple: Invite your loved ones to celebrate Night of San Juan and agree that you will use reusables instead of using single-use items. Organise fun activities, competitions, music or a small beach clean if you'd like, and make sure to upload your photos with the hashtag #nitdesantjoanresiduzero.
Visit the website www.nitdesantjoanresiduzero.org for tips for a waste free celebration!


More plastic than fish
19th of June 2019
Unfortunately, during this years' expedition we have seen more plastic pollution than marine animals at sea. All of it poses serious threats to marine life through ingestion and entanglement. 
Plastic pollution surveys conducted onboard include the sampling of microplastic at sea surface with a Manta Trawl as well as surveying for macroplastic and lost fishing gear. 
While open sea clean up efforts have shown to be inefficient, the data obtained can help model the source and fate of plastic pollution in the marine environment. This enables the identification of aggregation hotspots and allows clean up efforts to be focused on these aggregation sites, making them more efficient. 
That said, to achieve lasting effects, the main focus must always be on the reduction of waste generation and pollution prevention. This is particularly important since plastic is a material that lacks real end life solutions: most of it can't be recycled and even that which can looses quality during the process and can only be recycled a limited amount of times before it can no longer be used.
The huge amounts of plastic that ends up in the environment each year require long term soultions: we need to reduce plastic at the level of production and consumption as to generate less waste overall, and move away from our throw away culture and to materials that have working end life solutions and retournable systems which allow for honest and circular recovery and continuous reuse of the products we use.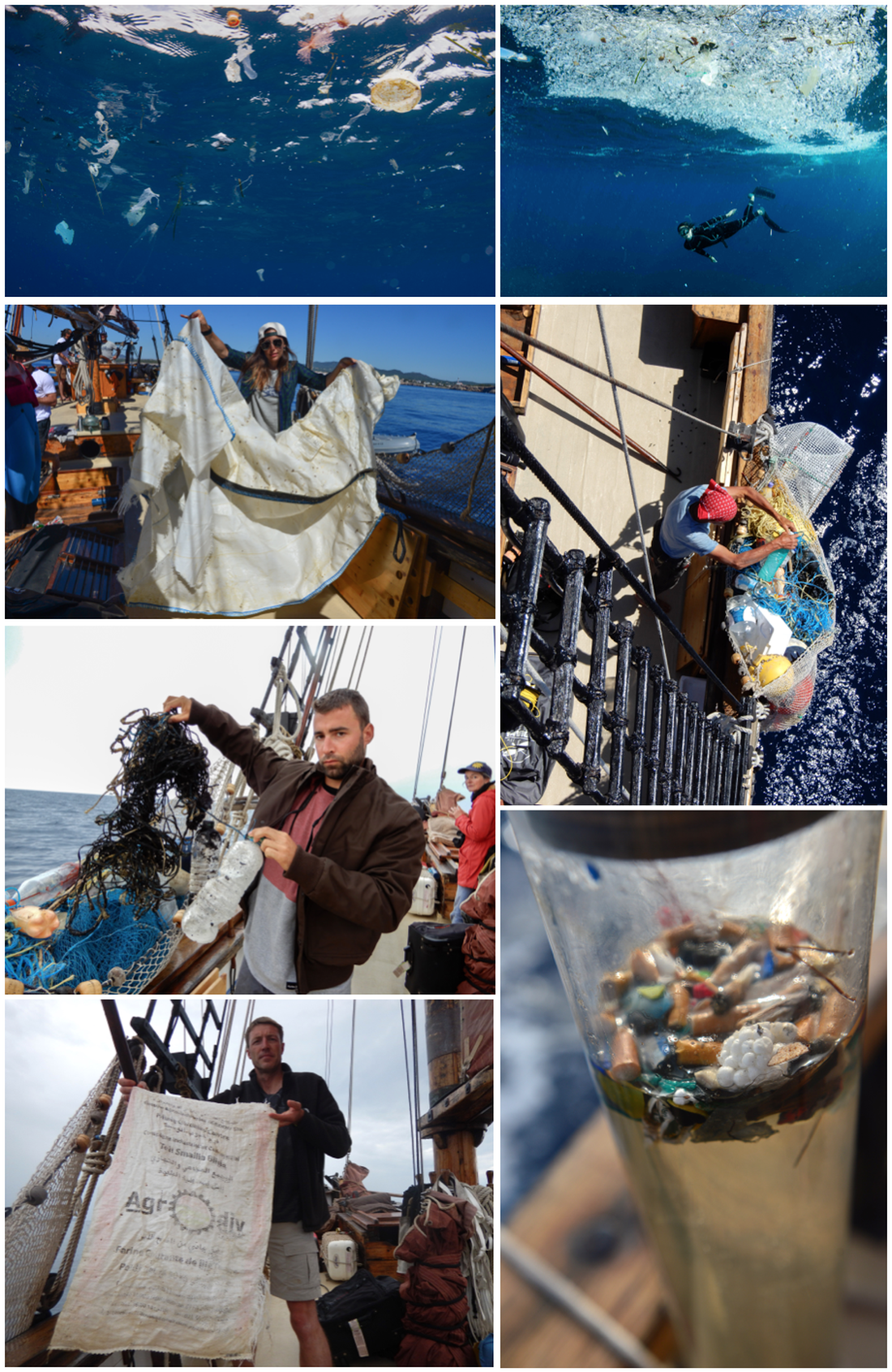 Cutting edge science
15th of June 2019
After two weeks at sea we are back on land and finally have proper internet connection to update you all on the happenings! So over the next period we'll be posting our delayed summaries of the events at sea!
This years' expedition was very challenging due to the rough weather conditions and unreliable forecasts. Wind, rain, swell and white caps made it difficult to spot and document wildlife.
Despite of this, we had some amazing days during which we could collect crucial data on Rissos' dolphins and Loggerhead turtles as well as observe Bottlenose dolphins and Striped dolphins.
We managed to tag this beautiful loggerhead turtle, named Anna after one of the very devoted volunteers on board. By tracking turtle Anna and other marine species via satellite tracking they funcion as "animal oceanographers" that allow us to see where and at what depths they move, follow their migration route and see in which temperatures and in which areas they spend most of their time. We can then compare this information to the existing information in the AIS system about marine traffic routes and see where the highest collision risks exist. 
This data has enabled the researcher to collaborate with governments around the Mediterranean to change marine traffic routes and/or maximum allowed speeds in areas where fragile marine species are commonly found. 
Furthermore, the Alnitak - Conservation in Action and Save The Med teams got a chance to work together, get to know each other better, exchange extremely interesting and valuable knowledge and skills, and we got to practice new cutting edge research and documentation technology together.
Baba Dioum once said that "In the end we will conserve only what we love; we will love only what we understand; and we will understand only what we are taught."
Our Boxfish 360º camera provides an exciting opportunity to combine advanced camera technology with education and outreach programmes for children and adults alike. By bringing the magic of the seas to the community through an immersive experience we can bridge the gap between science and local communities in engaging ways. After all, scientific data only becomes impactful when we understand it, value it and take actions for a positive change based on it.  
With the use of ROV - technology (Remote Operating Vehicle) we are able to explore and film marine life and underwater structures down to 100m of depth during both day and night. This allows us to collect information about bottom sediments and get close to species that are otherwise human shy. Furthermore, it allows us to this safely and from the boat/land, with minimal resources and risks for divers!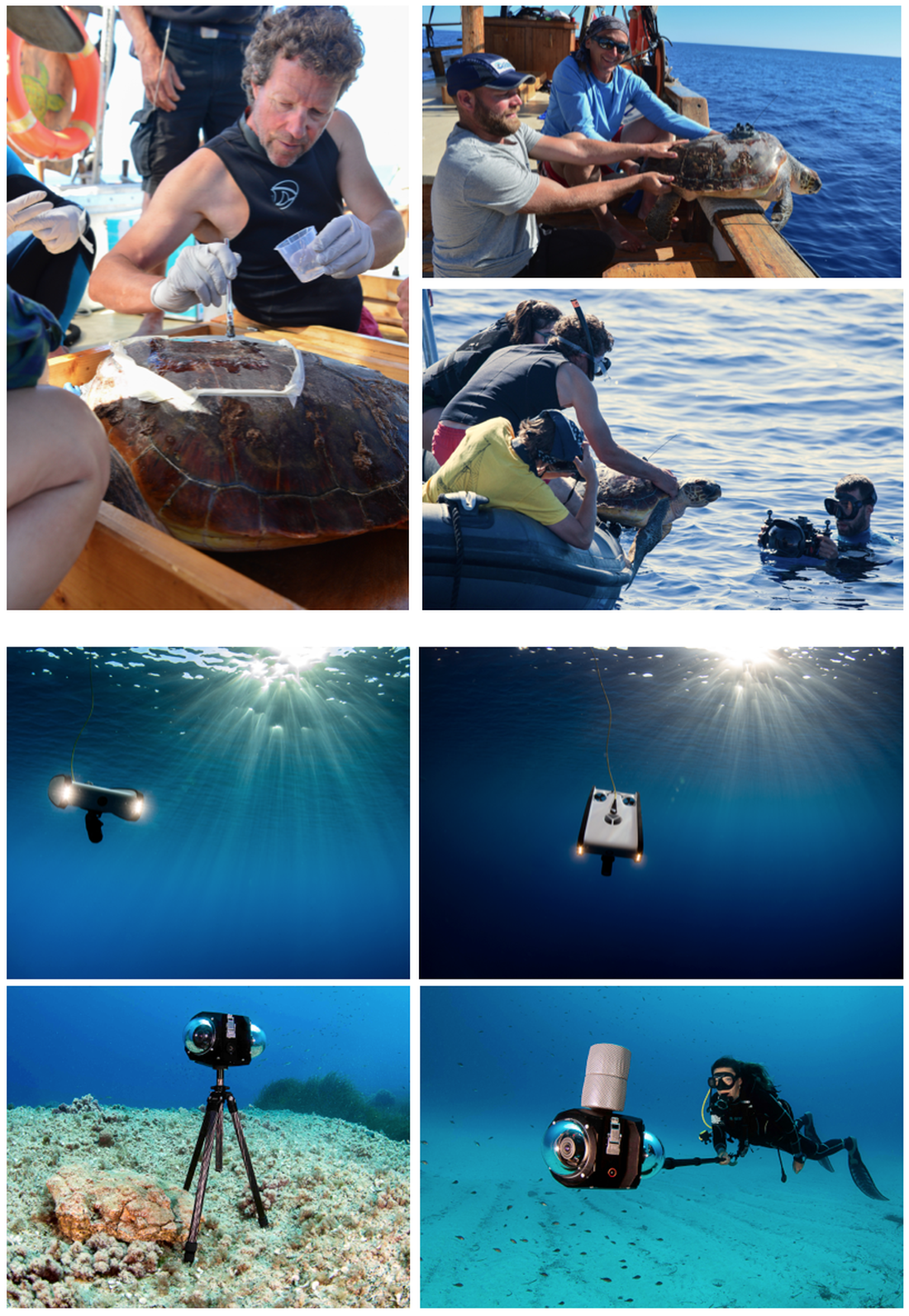 Giant Devil Rays
31th of May 2019 
On the 4th day of the expedition we got lucky! We departed from Cabrera at 5AM, arriving to our study site by 7AM where we were met by perfect conditions, playful dolphin pods and the elusive Giant Devil Rays! Since these are very shy species, Ramón and Save The Med's marine biologist Miguel waited patiently for the rays to get used to their presence. Hopefully it won't be long before we manage to tag them! 
Early mornings, long days and short nights take their toll on the expedition team and limit communication possibilities with the staff on land. Nevertheless with so many passionate ocean lovers gathered on two boats, the spirit is high and the atmosphere on board awesome. We are all thrilled about being part of such a meaningful project that aims to help protect some of the most vulnerable species of the Mediterranean Sea.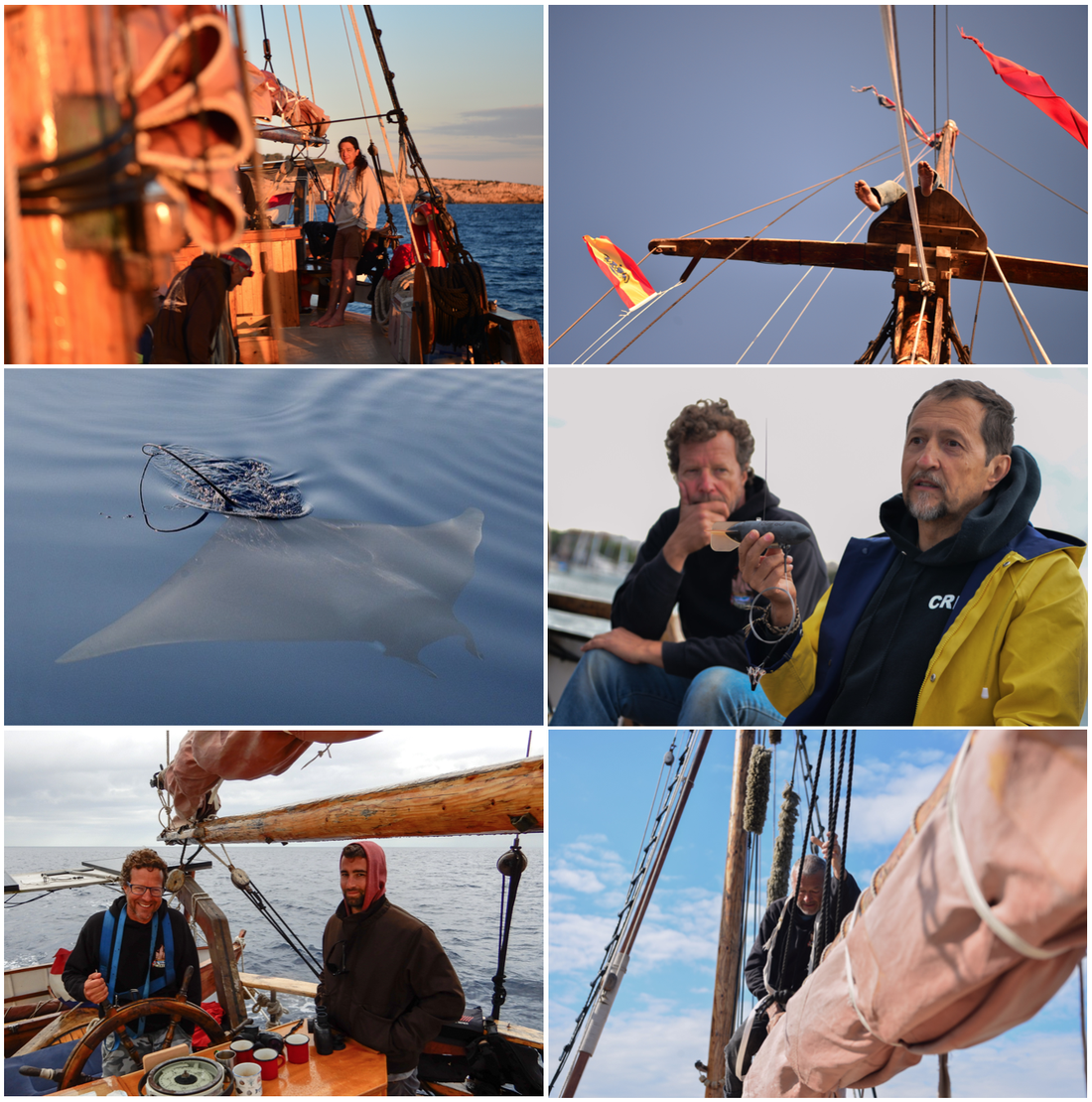 Expedition time!
29th of May 2019
During the weekend, our team set out to conduct a two week long research expedition in the newly expanded marine national park of #Cabrera. By studying pelagic marine species our research will allow us to better understand their biology, distribution and movement patterns: information that is deficient yet crucial to their protection.
Two boats, the beautiful Norwegian sailing vessel Toftevaag and the powerful Cachalote, set out towards Cabrera despite of wind, rain and choppy waters. Due to the bad weather the first days at sea were rough with a slow start, however a huge pod of striped dolphins very soon put smiles on our faces!
Onboard we have Captain Ricardo Sagarminaga who has dedicated his life to the conservation of the oceans, focusing on the study of cetaceans and marine turtles to address the management of specific risks that they are facing, such as marine traffic and by catch. We are also joined by Dr. Ramón Bonfil, a world known researcher and shark expert with many years of experience of tagging elasmobranchs in different parts of the world. 

Their combined knowledge is impressive and the team is super excited about learning new techniques to better understand the species we are observing, techniques which also include beneficial contributions to the management of the marine national park.
And speaking of the management of marine protected areas; during two of the days, Pep Amengual, the Director of Servicio de Conservación del Organismo Autónomo de Parques Nacionales (OAPN) joined us onboard. Pep shared his knowledge about marine protection with the team and showed great interest in the work and objectives of Save The Med. All parts are convinced that working together will be the key to efficient marine regeneration.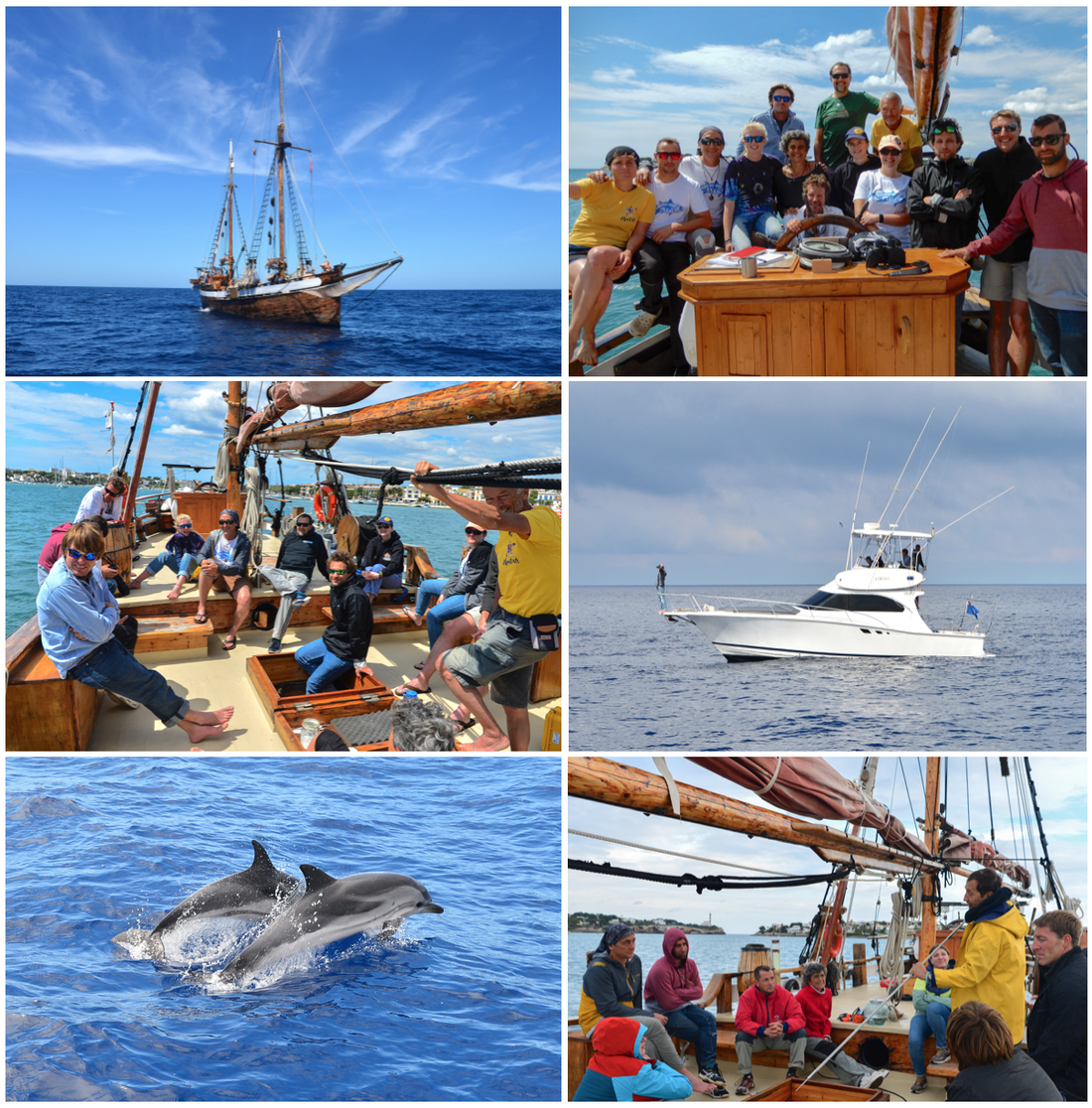 Celebrate World Ocean's Day with us @ Ca'n Pere Antoni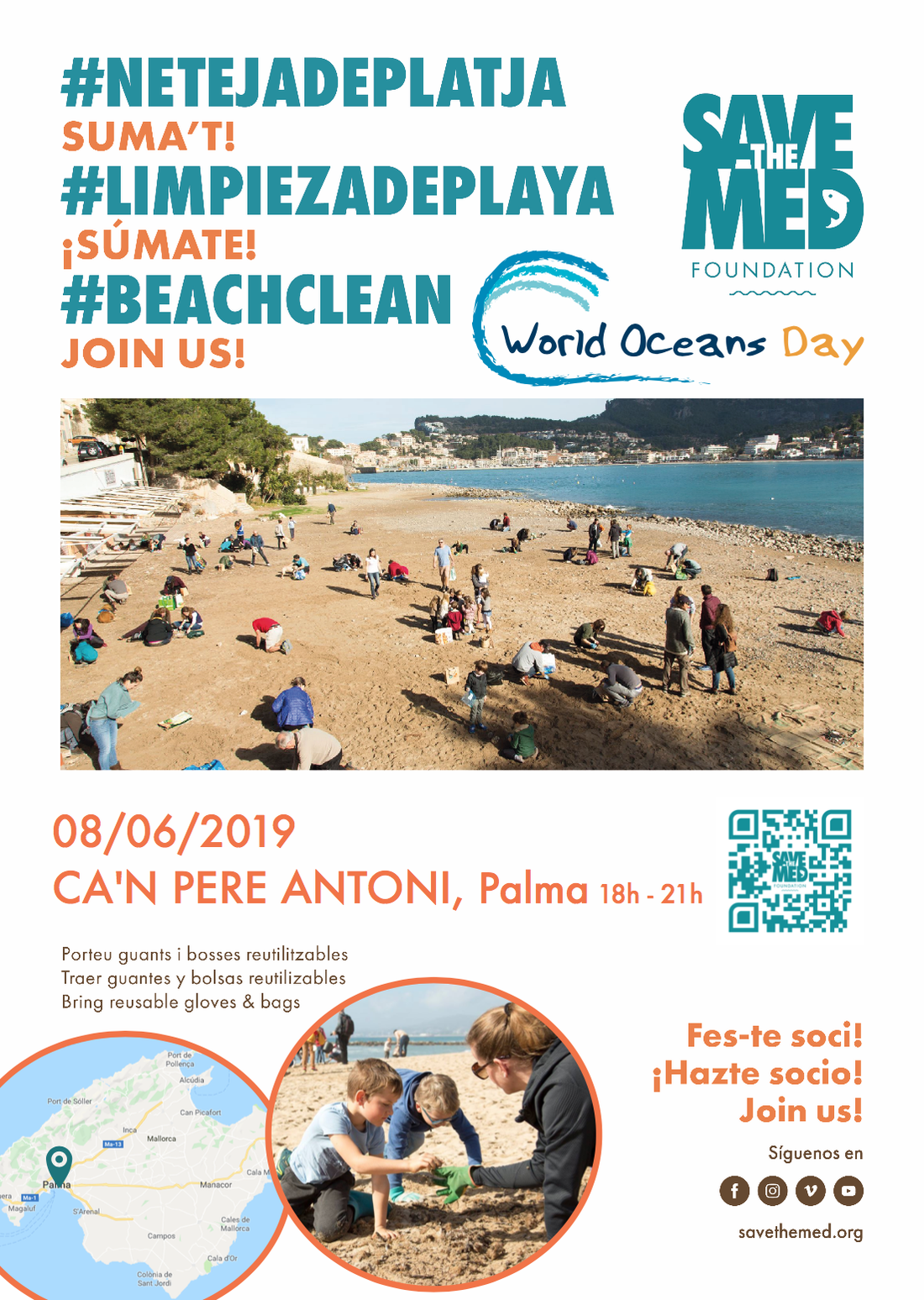 The Reserve Effect - Sa Dragonera
Recently The Balearic Government and Save The Med's work for the creation of Marine Protected Areas was featured in a short film created by Estrella Damm. Take a look below and read more about the project and the value of marine reserves here. 
"It would have been impossible to set up 11 marine reserves without majority support from the citizenship"- Toni Grau, Head of Marine Resources, GOIB. 
Asociación Ondine becomes Save The Med Foundation!
Since its' foundation in 2012, Asociación Ondine has grown steadily with a rapid expansion taking place over the last few years; an expansion that reflects a pressing global need to urgently and actively protect, restore and regenerate nature and wildlife.  To respond to this growing demand and to the continuous growth of our organisation we are very proud to announce a change in status and name, which will help us to expand our work and outreach as well as to better reflect the evolution of our organisation.
We are now Save The Med Foundation!  
Working for Marine Regeneration 
In a time where the world is facing some of the biggest challenges known to human kind, we believe that dreaming big and aiming high is the key to eventually overcome them. It is no longer enough to speak about marine conservation and work to preserve decayed marine ecosystems in their current state. We need to do all that's in our power to restore and regenerate these ecosystems and allow them to thrive as they once used to. 
With a big name come big responsibilities 
Needless to say, our new name, Save The Med, sets the bar high and motivates us all to work even harder and to achieve even more by expanding our local work in the Balearics through collaborations with grassroots organisations in other areas around the Mediterranean.  
#GenerationSaveTheMed
While the Ondine spirit and the beloved Ondine Shark will remain in our hearts, it's with excitement that we take on the challenges that lie ahead of us and welcome you all to join us on the next part of our journey and the rising of Generation Save The Med ; a generation made up of individuals, organisations, students, teachers, families, company owners, employees, creators, influencers, scientists, volunteers, ocean lovers... defined not by their birth year, but by their passion for the Mediterranean Sea and their willingness to change their lifestyles to help regenerate it. Thank you for being a part of it. 
With Love,
The STM - team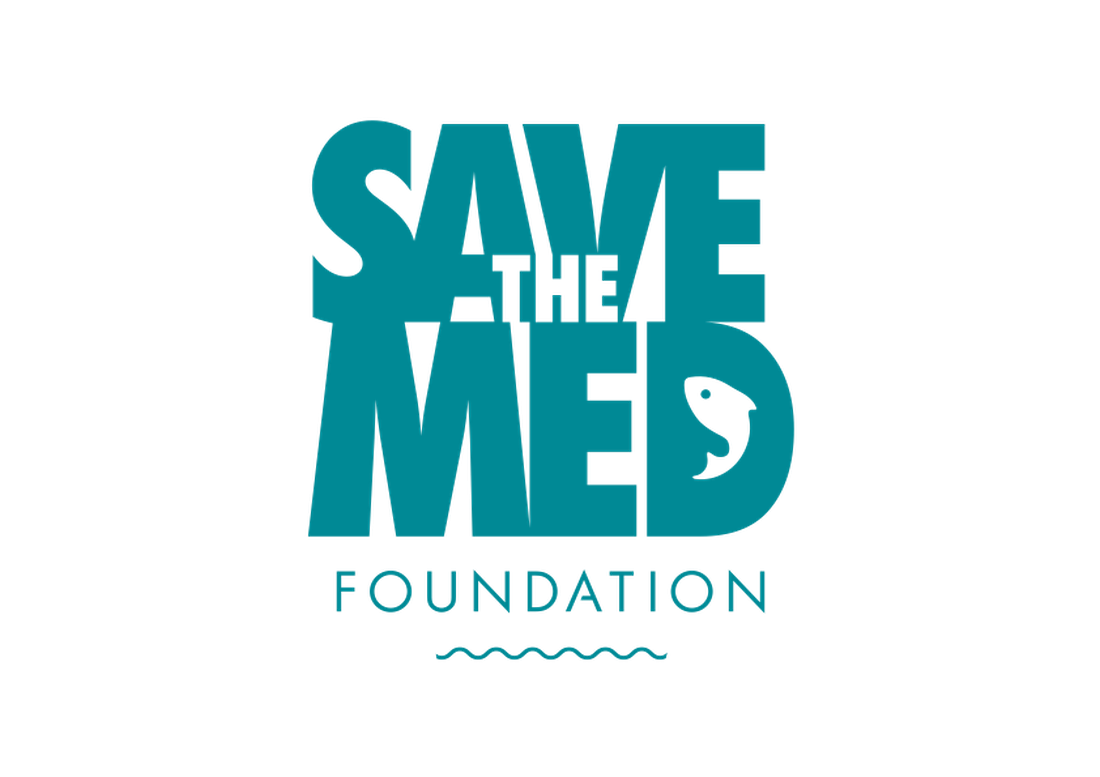 Join #GenerationSaveTheMed and help us protect vulnerable species
The Mediterranean Sea hides so much beauty beneath its surface. However, due to its unique location with 21 bordering countries and very limited connections to the open ocean, it is one of the most vulnerable seas of our planet. Become part of #GenerationSaveTheMed and help us to regenerate her. 
Annual Report 2018
We are proud to share with you our Annual Report of 2018!

Without doubt, 2018 has been our most exciting year to date.  

In 2018 marine conservation and plastic pollution were some of the most talked about topics not only among an increasingly conscious Mallorcan community, but also among companies, politicians, governments and world leaders. While this is very positive, we must keep pushing boundaries and ensure that we ourselves, as well as our leaders, do much more than talking. 

In Asociación Ondine's last Annual Report you can read all about how we have worked to advance and achieve lasting change at all these levels - from individual to governmental, and meet the people doing the work as we present each of our team members and share their stories with you. 

We wish to thank you all for being part of this movement for positive change, and look forward to sharing with you all that is to come as we step up our game, under our new name Save The Med, even further in 2019!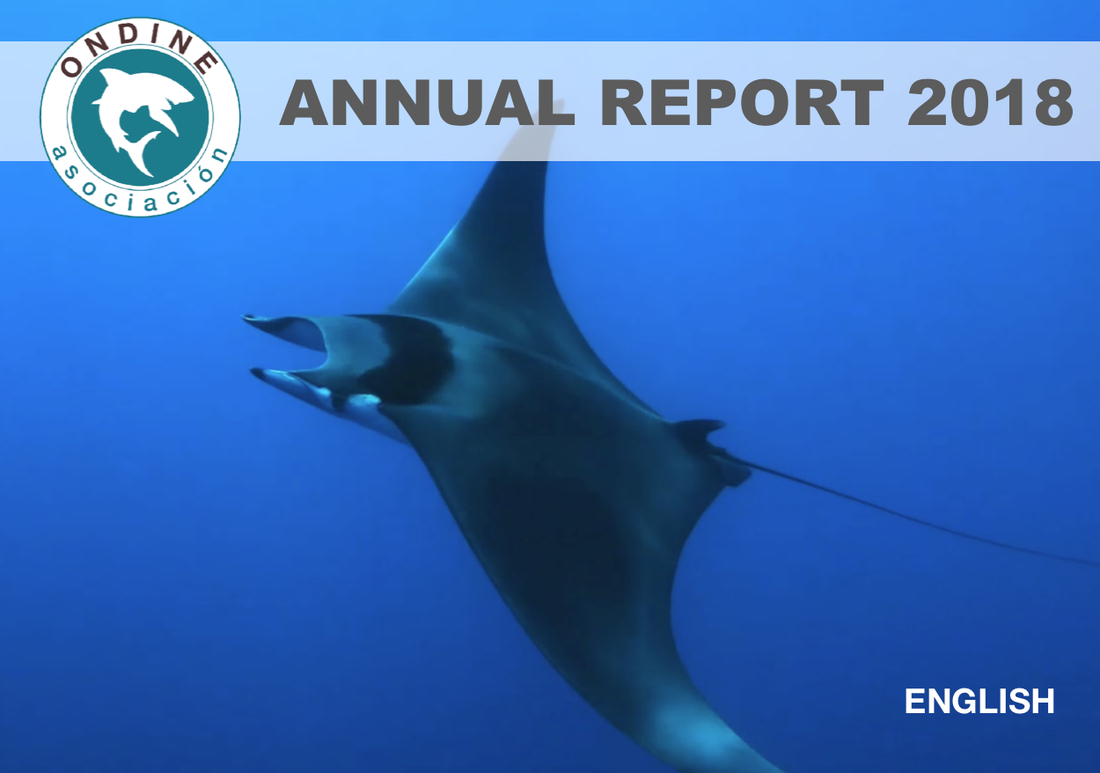 Check out or latest posts and join us for more!