Marine Megafauna in the Mediterranean Sea
Studying populations of open water species
Loggerhead Sea Turtle (Carretta carretta)
IUCN Status: Vulnerable
Loggerhead turtles spend most of their lives in open waters, riding ocean currents. As they swim in the open ocean, they feed on jellyfish, floating molluscs, squid and flying fish. They can cross the ocean several times during their lives. Their shells become encrusted with algae and barnacles during long trans-oceanic voyages. The turtles turn into an "oasis" for fish out in the open ocean, acting like natural Fish Aggregating Devices (FADs). They draw in schools of small fish and eventually larger pelagic species, like tuna. These provide a temporary haven for open water species and make sea turtles a valuable part of the oceanic ecosystem. Because of their unique ecology, distribution and abundance, loggerhead turtles are a good health indicator of marine ecosystems and an ideal candidate for our 'Animal Oceanographers' research programme. The loggerhead turtles found in our waters are mainly juveniles and sub adults. As they feed in the open waters of the Mediterranean Sea, they are extremely vulnerable to by-catch and entanglement in ghost fishing gear. Save the Med is currently focusing on the dangers of ghost fishing and its impact on the loggerhead sea turtle. 
A lot of the turtles we see in the Western Mediterranean start their lives thousands of miles away, in the beaches of Florida or the Caribbean. Their conservation requires efforts without borders. This is why both NOAA and the US Fish and Wildlife's Marine Turtle Conservation Fund are important partners in Save the Med's turtle conservation efforts. Just as we should protect nesting sites in the Atlantic Ocean, similarly we should follow through in the later stages of the sea turtle's life.

Risso's Dolphin (Grampus griseus)
IUCN Status: Least concern
Usually found in temperate and tropical waters around the world. This dolphin can be shy and reserved when it comes to noisy boats, but catch them in the right mood and you are in for a magical experience. They are playful and sociable and are usually found in large pods. Risso's dolphins are characterised by distinctive white scars and scratches on their bodies. They acquire them over time from other Risso's dolphins and grappling with squids, their main food source. Since their main food course is squid, they prefer deep waters and found on the edge of continental shelves or steep drop-offs. Save the Med have constructed a photo-id catalogue for the Risso's dolphin populations in the Balearic Sea, which was presented at the World Marine Mammal Conference in 2019. The catalogue helps us to identify individual dolphins and their pods, using close up shots of dorsal fins as an identification method. The data will be used as a monitoring tool for marine protected areas in the offshore extended National Park of Cabrera.

Sperm Whale (Physeter macrocephalus)
IUCN Status: Vulnerable
The largest toothed predator in the world, the Mediterranean sperm whale population can be found feeding in the waters of Mallorca and Menorca. They have the largest brain of any creature known. They spend a lot of their time underwater, where they hunt for squid, using sonar clicks. Their dives can reach a depth of 1000 meters and they can remain under water for over 90 minutes. When hunting they resurface about every 45 minutes to breathe and rest. As part or our surveys, we conduct passive acoustic monitoring of these giant creatures. From our ship we use a towed underwater microphone (hydrophone) on a 200m Kevlar cable. This deployed every time we reach waters over the continental shelf (200m depth). A preamplifier and sound card is used to feed a laptop equipped with the PAMGUARD (Passive Acoustic Monitoring) software. With this set-up, we can detect cetacean vocalisations like whistles and clicks. Every 30 minutes, our crew listens in, waiting for the unmistakable feeding "clicks" of the sperm whale as it hunts deep underwater. This method increases are chances of sperm whale encounters and sightings, as we wait for them to resurface. Besides being at danger of ingestion of plastic debris, sperm whales are also at risk of ship strikes. Part of the management strategies in protected areas is to deviate or diminish shipping traffic in busy whale feeding areas, reducing the risk of collision.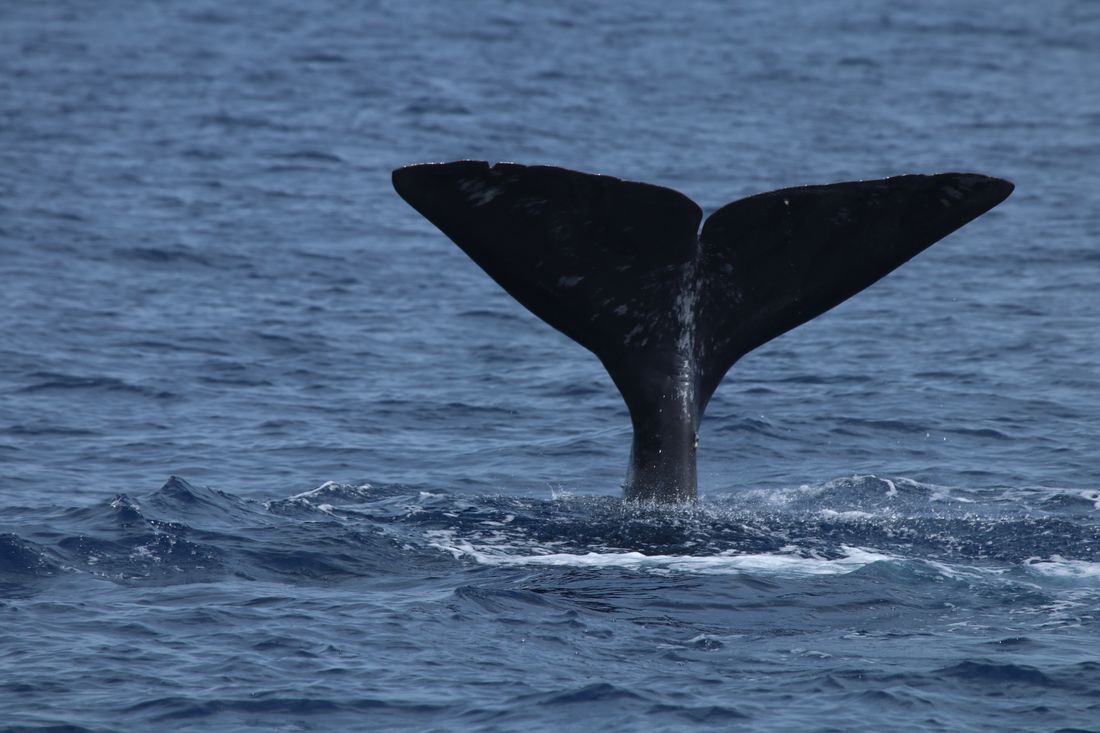 Giant Devil Ray (Mobula mobular)
IUCN Status: Endangered
The Giant Devil Ray can reach up to 5 metres in width. It feeds on plankton (mostly krill and small fish). The body of the female develops one large egg at a time, with a gestation period of over 1 year. Not much is known about its biology. Although it is protected, the Giant Devil Ray can be accidentally captured in swordfish pelagic driftnets, longlines and pelagic trawls. In the Balearics, SAVE THE MED marine scientists have reported recent cases of bycatch caused by trammel nets and longlines. During 2005 - 2018, we found 31 records of Giant Devil Rays off the Balearic waters. We suspect that over three generations, a significant population reduction of at least 50% has occurred. The Balearic Sea is a great place to conduct research on the Giant Devil Ray. The primary goal of our study is to obtain data on its movement patterns (spatial ecology) and population dynamics through our tagging program. Some of our objectives include:
Examine migration and dive patterns of the species.

Collect DNA samples to study taxonomy and population structure.

Document behaviour and collect Photo ID.

Bluefin tuna (Thunnus thynnus)
IUCN Status: Endangered
Atlantic bluefin tuna (Thunnus thynnus) are one of the largest and most valuable fish in the ocean. As a top predator, they play a vital role in marine ecosystems throughout the North Atlantic Ocean and Mediterranean Sea. Over the last several decades, a high global demand for seafood and increasing fishing practices (including tuna farms - capturing wild tuna for fattening in cages) have resulted in severe overfishing of this species. The Atlantic bluefin tuna is considered one of the most depleted highly migratory fish. The Tag-A-Giant (TAG) programme launched in 1996, has been working to study migratory patterns, population structure, breeding site fidelity, physiology and diving behaviours of Atlantic bluefin tuna. To date, over 2,000 electronic tags have been deployed in the North Atlantic, on bluefin tuna ranging in size from 30 to 500 kg! Tracks as long as 4.8 years have been recorded, revealing the movements of fish as they grow from adolescents to adults. Two populations have been identified. One population spawns in the Gulf of Mexico and the other spawns in the western and central Mediterranean Sea.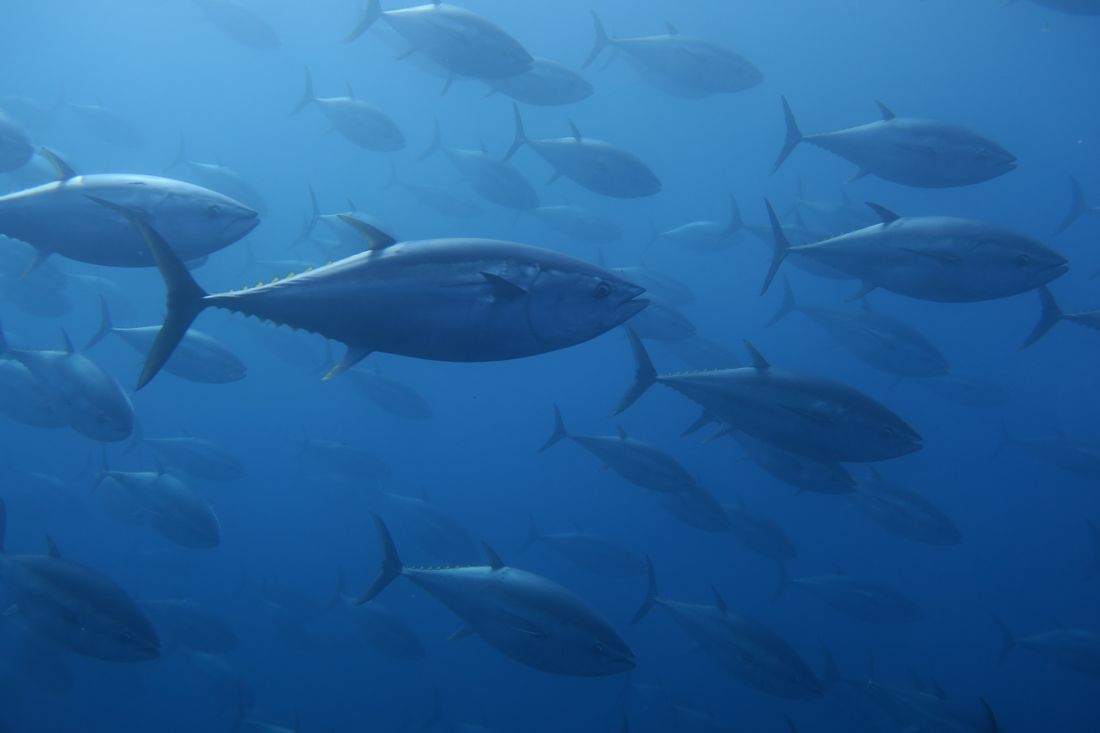 DOWNLOAD OUR EXPEDITION FIELD GUIDE BELOW TO FIND OUT MORE
Bottlenose dolphin  (Tursiops truncatus)
Striped dolphin (Stenella coeruleoalba)
Common dolphin (Delphinus delphis)
Balearic Shearwater (Puffinus mayretanicus)
Fin whale (Balaenoptera physalus)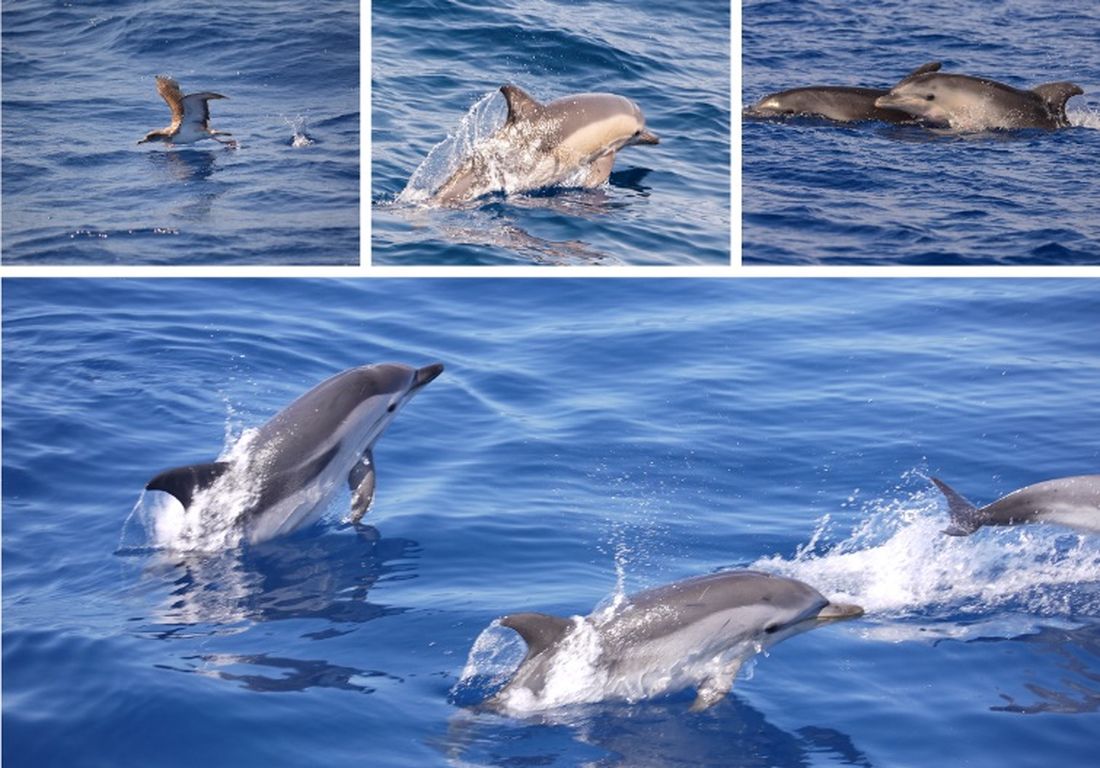 Find out More
Find out more about our research at sea and how you can join one of our expeditions.